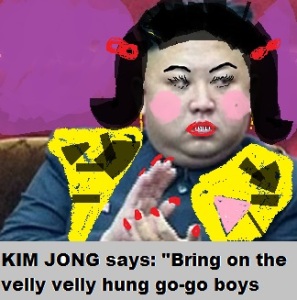 Kim Jong Un, the supreme leader of North Korea has been missing from the public eye for over a month.  Seems nobody has seen him since early September when it was reported by the BBC that the portly Dennis Rodman fan was walking with a discernible limp.  He may have had a limp, but was it a limp leg or a limp wrist?
Rumors are spreading that Kim Jong Un has been deposed because he was caught hoarding gay pornography from Western Europe and the USA in his spacious bedroom, and that he may have been fooling around with a few high priced Eastern European gay porn stars who he smuggled in as "friends" and "basketball buddies."
"They are making up all kinds of possibilities for what's going on with him," said a gay porn producer in Prague.
"He was seen walking with a limp because his uncle's bodyguards beat him badly when they were tipped off by a computer expert that the Supreme Leader had a taste for Slovakian muscle guys.  
"At first he was given the benefit of the doubt that this was perhaps a Western plot to defame him, but people who know said that his personal living areas were raided and ransacked and that over four thousand  porn magazine were found in his master suite bedroom which is about 6,000 square feet all by itself.  
"Since the stuff has been confiscated, the fat pig has been under house arrest and kept in solitary confinement until such time that he confesses.  The penalty will be death but right now the powers that be are trying so hard to keep this quiet that he might be killed off by saying that he had a fatal disease.  Those people are really crazy." 
It's no secret that Kim Jon Il likes black guys with big muscles and that his friendship with American Basketball star Dennis Rodman is really just a schoolgirl crush.
"Dennis Rodman has never had any sexual contact with Kim Jong Il," said a source close to the NBA star.  
"Dennis was the one who suggested that Kim Jong Un get a penis enlargement over two years ago.  Dennis was unaware of Kim Jong's penchant for gay porn, but he did know that the Korean leader was sensitive about the smallness of his penis.  Dennis heard that Kim Jong Il's penis enlargement surgery went well but maybe something has gone wrong with the surgery or maybe he has used his now bigger tool with confidence with gay porn actors.  It's hard to tell because nobody seems to know anything other than the fact that he was caught with a lot of gay porn magazines, DVDs and downloaded movies on his computer."
According to sources who are usually pretty reliable, the Korean leader was able to increase the size of his penis from 3.2 inches to a thicker 4.7 inches, which, in Korean terms, is not too shabby.