Search Results: reddit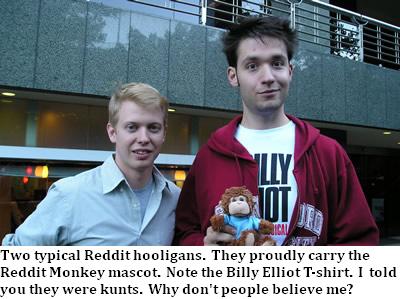 There's this website called Reddit.com.  I'm not exactly sure but I think it's a place where failing college kids from fukked up homes  kind of hang out and decide what is read-worthy on  the net.   
My experience with Reddit has been limited other than to say that a few of the links on TheDamienZone.com have been posted to that site.  The feedback I got from the submitters was appalling.   The whole website seems to have been taken over by marauding little coksukkers who gang up on outsiders who they deem unworthy to participate in whatever Knights Templar circle jerk thing it is that they do over there.  My impression is that what they do best is bully peple who are not in with their " in" crowd –and who the fuck would want to be?
The rudeness of many of the Reddit front guard — they mustlove that I call them that  — seems for the most part to be cliquish, childishly insecure and dopey-girlie-pretentious.   It's like they're all the pretty girls in the 7th grade class and you're the hapless nerd who happened into their secret world. 
Woe to the poor slob who submits a link to Reddit and it does not meet with the left-wing, don't know they're fat and ugly teenagers and the mom's-basement thirty-something misfits who patrol the Reddit website for incoming reconnaissance.  They tear you to pieces and insult you and harass you because it seems that the real purpose of Reddit is for the unschooled and ill-bred to fool themselves into believing they are neither of those things. 
It's hard to explain but they're the kind of assholes who like to think they find irony in things and then mock something by pointing out the irony.   Finding irony –or their version or irony — makes them feel emboldened.   Nobody has been hammered more than two of my fans. 
Anything from TheDamienZone is appallingly beneath Reddit's  Chelsea Boy Liberal standards of journalistic integrity despite the fact that Reddit submissions  like, "I Think My Penis Is Shrinking From Drinking Smart Water" and "My Sister Thinks My Grilfriend is Hot" get lauded by the Reddit hooligans — it's really that fukked up over there.
Hey, I don't give a shit what anybody thinks of me.  If the little dicks over at Reddit don't like me, they can go fuck themselves.  After reading some of the comments and insults they hurled at my readers, I consider it a badge of honor to not be liked by the pretentious and possibly queenish thugs over at Reddit — they can suck my ass for all I care.
The sad part is that there are probably a lot of nice people who belong to Reddit and they honestly look for interesting things to read — but they never get to see anything I write because the rugrats who guard the coastline over there are nasty little kunts.  
They will like that I call them vulgar names because their genius minds will find the irony — I told you they love irony — all ultra geeks in search of purpose or a sexual orientation do.   I hope that gives them some measure of satisfaction. 
Most of the kids over at the Reddit kiddy-land are stupid and only stupid people would be stupid enough to fall for their game.  Is Reddit even aware that the site is being ruined by these fuktards?   Oh, wait a sec, maybe Virgina Cunningham was right when she told Nurse Summerville that the sick people will rule the roost when there are more sick people than well ones.  
I wonder if the fuktards will get that esoteric reference?  Sure they will — one of the fuktards is already looking it up and will post it as though he knew it all along.  Now THAT'S the brand of hardcore fuktards I'm talking about.
Go ahead and comment and say whatever you want.  I never censor comments, but be prepared for what I say to you.
EDITOR'S NOTE: Let's get this straight!  I HATE REDDIT and I do not like any of my readers posting anything I write on that website.  It's a website for mentally sick children.  You are not helping me by putting anything I write on Reddit.  PERIOD!
For all of you who are still lamenting the fact that the Supreme Court of Florida voted in favour of George W. Bush over Al "loser" Gore — how's this for a wake-up call?
Former Vice President Al Gore has made himself a much, much richer man by selling his little watched cable channel Current TV to the Emir of Qatar-funded Arab news channel Al-Jazeera.
Gore netted $100 million with his 20 percent stake in the network when it was sold for a reported $500 million on Wednesday.
How many times does this Al Gore guy have to show that he is an evil loser — the pure scum of the earth and the ultimate loser?  What would he have done had he been elected President of the USA?  It boggles the mind.
Al Gore guy puts Judas Iscariot in the "nice guy" category.  For people who believe in Jesus or the Bible or plain old historical references, Judas was the guy who sold out Jesus to the Romans — or the Jews if you ask Mel Gibson — for a few pieces of silver.
Have you ever heard anyone call another person a "Judas?"  If you haven't — here is a chance for you to learn something conversational.  If your social circle is annoyed by the fact that you mention anything even remotely connected to Jesus,  it doesn't mean that they are anti-Christian — it simply means they are stupid and are not interested in teological literature — get rid of them — they're stupid.  It's history, people — simple history — and in this case history is repeaing itself.  The part of Judas is being played by that old fat, bloated, loser –AL GORE — TRAITOR!
Al Gore has sold his CURRENT TV network that is sadly carried by a lot of cable subscribers to the enemy — Al-Jazeera.  If you don't believe that Al-Jazeera is the enemy — get the hell off of my page.  You're simple-minded.  Go off in the corner and play with some kid's Playskool xylophone.
Al Gore has sold out for $100 million — which he must need really bad — to the network of terrorism, that is responsible for the deaths for thousands upon thousands of deaths  throughout the world. It's a network that is run by Islamic killers who pretend to be legitimate purveyors of world news.
Go ahead and call me all the names you want –use all the old tried and true internet insults too — "You're off your meds" — "Do you live in your mom's basement"  — "You're Pathetic" — I can take it.
Al Gore should be tried for treason — this is the lowest move in history.  Al Gore makes the Julius and Ethel Rosenberg look like Hansel and Gretel — he makes Jane Fonda look like Goldilocks.  This is evil — this is the true face of a defeated Satan.
I urge all people who get CURRENT TV hitched up in their cable package to protest and ask that it be taken off their cable package ASAP.  Having this terrorist network in the American living room opens the doors to mayhem and horror — mark my words.
After he got fired from MSNBC for bing a complete insane person, Keith Olbermann was made the anchor on this nothing network.  Naturally it was Al Gore who hired him and naturally Olbermann lost his mind again and had to get ditched.  Do you see wht a loser Al Gore is?  Do you see a pattern?
BOYCOTT YOUR CABLE PROVIDER if they do not drop Al-Jazeera upon your request — you don't need the moderate Muslims in the USA ( not that there really are any) watching this media arm for terrorism because that's all it is — nothing more.
Pardon my jingoism, but this AL-JAZEERA SHOULD NEVER HIT THEAIRWAVES in the USA!   It's a recipe for disaster and Al Gore should spend the rest of his life in jail for high crimes.  Can you imagine what would happen if Rupert Murdoch did something like this?
EDITOR'S NOTE: Let's get this straight!  I HATE REDDIT and I do not like any of my readers posting anything I write on that website.  It's a website for mentally sick children.  You are not helping me by putting anything I write on Reddit.  PERIOD!
On Sunday, a few hours after he was found dead in his California swimming pool at age 47, Rodney King—a central figure in the 1992 Los Angeles riots—began trending on Twitter.
News of King's death was quickly followed by a related, if disturbing, Twitter trend: "Who is Rodney King?"
"Who is Rodney King?" Briauna Mariee, identified on Twitter as "First Queen Standing," tweeted upon seeing King's name trending.
"Is it bad that idk who Rodney King is," Twitter user Jiggy wrote, "cause I don't."
"Who is Rodney king again? I forgot," Bougie Bre asked, adding: "#serioustweet."
"Same thing I wanna know," user Carolina Girl tweeted.
"[I don't know] who Rodney King is/was," @IAinTheDadMaury admitted. "Don't feel bad cause idk who he be either," @DatNikkaCuatro responded assuringly.
"I'm not gone lie y'all," @isingiprayilove wrote. "I don't who [...] Rodney King is."
"Wikipedia it," Bennie Cooper suggested in response.
"Don't know who Rodney King is but we share the same last name," Raymond King, a self-described "semipro gamer," wrote on Twitter. "R.I.P."
King's death was certainly not the first to baffle Twitter users. Television icon Dick Clark, author Ray Bradbury, Bee Gees singer Robin Gibb, disco queen Donna Summer, CBS News interviewer Mike Wallace, "Where The Wild Things Are" author Maurice Sendak, singer Levon Helm, Beastie Boy rapper Adam Yauch and hairdresser Vidal Sassoon—all of whom died this year—ended up cycling through the microblogging service in a similar manner:
1. Death is reported 2. News of death spreads 3. Name begins trending on Twitter 4. Name preceded by "Who is" begins trending on Twitter 5. Backlash against ignorant users responsible for "Who is" trend ensues
"I get the feeling I'm going to be slaughtered for saying this," Rhys Kelly tweeted after Gibb's death. "But who is/was Robin Gibb?"
"Who/what on earth is the Bee Gees?" admitted cocoon-dweller Peter Botha asked his followers.
"Who's Robin Gibb and why is she trending?" Ant Wright wrote.
"We all have a tendency to see culture as a monolith," Scott Lamb, managing editor of Buzzfeed—a site that's become a virtual clearinghouse for Twitter naivety—told Yahoo News recently. "And one thing Twitter does is expose how untrue that notion is."
On April 18, Buzzfeed noted:
Shockingly enough, there is an absolutely gigantic amount of people on Twitter who don't know who someone or something is. Today it's Dick Clark.
"Yes, there are those who don't know about Clark," Jen Chung wrote on LAist.com. "But to be fair, some aren't American and Clark was an American pop culture figure. And the young aren't as familiar with him, because he's only really been on TV lately as the New Year's Rockin' Eve host—and in limited segments."
Of course, it's not just death that exposes Twitter's generational divide—anniversaries of historical news events show it as well.
In April, on the 100th anniversary of the Titanic disaster, the social news-sharing site Reddit pointed to a series of tweets from people who did not know that the sinking of the Titanic was real—and not just a 1997 Hollywood blockbuster starring Leonardo DiCaprio and Kate Winslet.
"Wait!" user Sue D. wrote. "Titanic really happened? I thought it was just a movie."
"Guys, the Titanic was real!" @BabyDoe22 wrote. "#mindblown."
"I think the reason why bigger events exposes the divide is because people just want to participate in the conversation," Chung told Yahoo News. "They want to have a say, even though they might not have anything to say."
"People not knowing about the Titanic probably says more about gaps in the education system than gaps between generations," Lamb said. "But Dick Clark's death does expose that the cultural touch-points we take for granted aren't familiar everywhere."
[Also read: Twitter Backlash for People Who Did Not Know 'Titanic' Was Real]
But you don't always have to die or sink a ship to blow young Twitter users minds: Sometimes, you just have to be a former Beatle who shows up at the Grammys.
"Who the f— is Paul McCartney and why is he on this?" Kristen Dewe wrote on Feb. 13 during the Grammys broadcast.
Sadly, she was not alone.
McCartney, who turned 70 on Monday, is among a set of celebrities who have been a constant presence for men and women of a certain age–just imagine what's going to happen on Twitter when Macca dies.
"People just coming of age now have a different group to work with," Lamb said. "There's something unsettling about realizing that your references are dated."
Sarah Palin? Democrats Forget They Put JD Hayworth in Crosshairs
By Rachel Alexander, on January 9th, 2011
The Democrats are politically exploiting the shooting of Congresswoman Gabrielle Giffords by attacking Sarah Palin for setting up a list of "targeted" Democrat members of Congress last year. They conveniently forget that defeated Democrat Congressman Harry Mitchell did the same thing to JD Hayworth a few years ago right here in Arizona, running a campaign ad featuring JD Hayworth in the crosshairs of a rifle. 
Rachel Alexander and her brother Andrew are co-Editors of Intellectual Conservative. Rachel is a conservative commentator and social media consultant who runs RightNowSocialMedia.com. She is a recovering lawyer and co-hosts the AlexanderAndGoldmanShow.com on KKNT960. She lives in Phoenix, Arizona and has been published in the American Spectator, Townhall.com, Fox News, NewsMax, Accuracy in Media, The Americano, ParcBench, and other publications.