THE DE FRANCO FAMILY PULLS "HEARTBEAT IT'S A LOVEBEAT FROM SPOTIFY.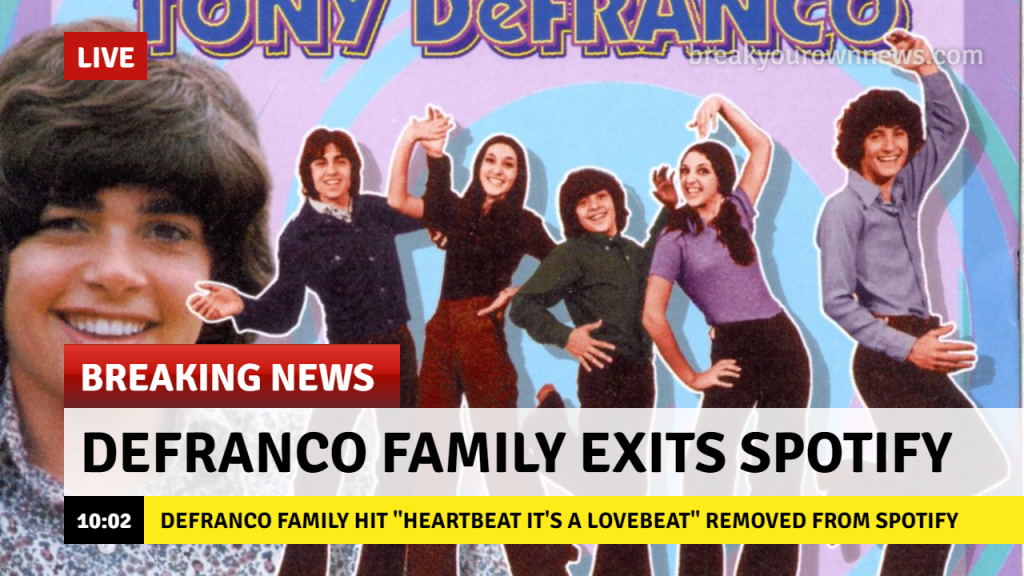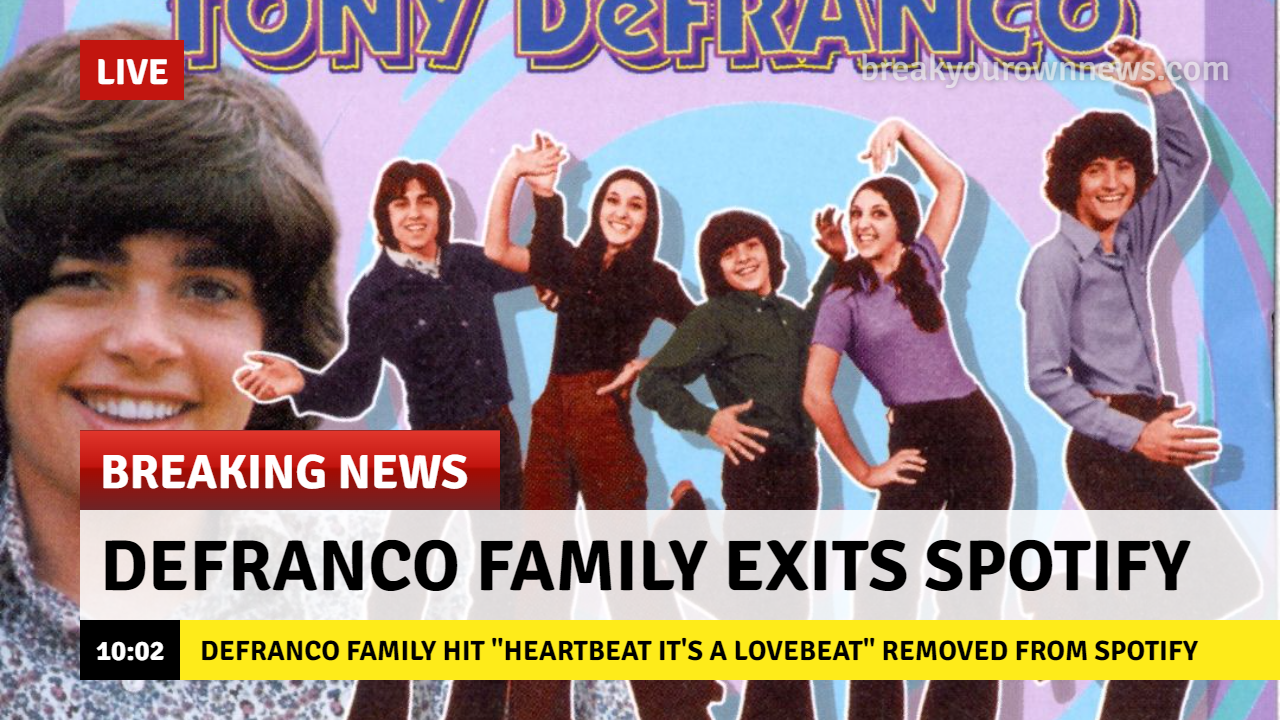 WRITTEN FOR THEDAMIEN ZONE BY – David D Mattia <—click here for more information about the De Franco interview.
Hundreds of millions of people throughout the world sat in a state of disbelief as the iconic child band THE DE FRANCO FAMILY showed support for Neil Young and Joanie Mitchell by yanking a medley of their greatest hit from Spotify.
In 1972, Young Tony De Franco made a splash as a 13-year-old superstar when his chart buster HEARTBEAT, IT'S A LOVE BEAT broke all records when 2 billion 45 RPM singles sold throughout the world. It was the #1 record in Red China, the USA, North Korea, India and the Soviet Union – where it was rumored to be the favorite song of Soviet leader Leonid Brezhnev who later blamed the song's popularity for the fall of the Soviet Union nearly 20 years later.
"He (Tony De Franco) had the moves. He had the voice. He that hair. My God, I never saw so much hair. Tony was a superstar to end all superstars," remembered Saul Greenblatt, 103, the Teen-Scene music producer who now lives off the residuals from the song whenever it plays on Spotify.
Saul Greenblatt, now on supplemental oxygen, continued…..slowly.
"Although I will now live in poverty and will have to take a 2 bedroom in my Boca apartment, the De Franco Family and I had to yank the song from SPOTIFY because Joe Rogan, who is not a mensch in my book, talked carelessly about that virus, and the De Franco Family is very vaccine oriented. If you remember, our song vaccinated the average American against good taste in music. I had to agree."
HEARTBEAT IT'S LOVE BEAT gets ordered on Spotify at least 60 times per year, and for a guy on a fixed income, Saul has to be careful with every penny.
Tony De Franco, the kid with the bell-bottomed pants and the 700,000 strands of hair, was not available for comment.
Today Tony is in his early 60s and is trying to make a comeback in Branson, Missouri with his new single, HEARTBEAT IT'S A PACEMAKER.
One fan, Josie Ballsitrano of Nutley, NJ wrote: "I can't believe that Tony De Franco removed the medly of his greatest hit from Spotify. I don't know what Spotify is, but I suppose it's something bad because Joy Behar said so on The View which I watch every morning with my neighbors who are two stylish bachelors in their 60s like me."