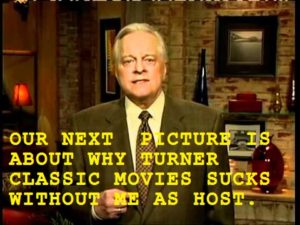 TCM Sucks Without Robert Osborne and Here's Why.
If you've been wondering why TURNER CLASSIC MOVIES, once perhaps the finest network on cable TV, is starting to stink like a rotten fish, you need look no further than the new faces who have stepped into the spotlight and who are working behind the scenes.  They seem to have no knowledge of film and no taste in film, and they seem to possess a sick fixation for focusing on phony diversity and crappy movies, and some really dumb promotional gimmicks.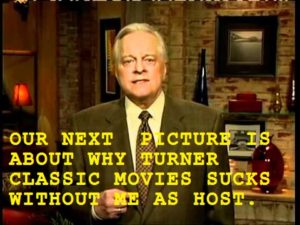 TCM used to be the TV station you could always turn to when you needed the comfort of a classic film.  It had taste, and standards, and dignity….and it had Robert Osborne.  Better recent pics of Robert Osborne here –   Das Robert Osborne Photo 
(UPDATE:  ROBERT OSBORNE DIED SHORTLY AFTER THIS WAS WRITTEN)
Nowadays, with Osborne somewhere in the distant horizon –  and no one really knowing what's going on with him apart from the fact that he's old — TCM has lost its allure and class, and the only thing that saves it from being just another shitty cable show is that every now and then you get a brief look at someone like Bette Davis or Basil Rathbone or Olivia deHavilland, etc.   The rest of the time you're watching newer movies laced with profanity or obscure art films that bore you to death.  Yes, these are movies too, and they have their place in the archive of film history, but most of it is pure shit… and people are tuning out.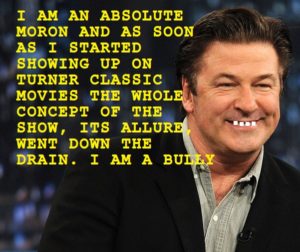 Between those moments of cinema greatness, you have to sit through some really stupid stuff because a whole bunch of the staff at TCM were laid off.  Someone named Jennifer Dorian stepped in to cover for the whole lot, and she might be partially responsible for the new "getting-shitty" TCM.
We prefer, however, to blame the dip in quality on the liberal hosts and amateur talents who taint the entire concept of what TCM once was.
Even before Jennifer Dorain, the whole shakeup at TCM,  and the semi-vanishing of Robert Osborne, there were still glimmers of shitty things to come on the horizon.  
It all started when Alec Baldwin somehow pushed his way onto the set — and let's face it — that is what he did.  This big dope, this politically moronic Neanderthal bully, managed to snag a short stint as a co-host alongside Robert Osborne.  It took about 10 minutes for anyone with a brain to figure out that  Alec Baldwin knows nothing about movies, and he's just a blowhard who spouts meaningless cinephile-speak.   Baldwin doesn't even know how to pronounce FILM NOIR properly, and everything he said was dumb.
Alec Baldwin, with poor Robert Osborne noticeably squirming in his seat, pompously described classic films with descriptions things like:  "You can see here how Hitchcock, in this 'FILM NEW-ARE' (film noir)  was coaxing the sweat from your brow and convincing the hair on the back of your neck to stand up."
Come on, Alex!  Get the f**k out of here!   Thankfully, he's gone…for the time being.  He'll probably bully his way back dressed as Donald Trump and talking up movies about American Presidents.   Yes. it might get that dumb over at TCM.
I have chosen to exclude Sally Field from my list of shitty people on TCM because I think she is mentally sick and I would not want to say something bad about her — except that she is mentally sick in the kind of way when you don't have to feel bad about mocking.
Another sign of the shitty decline which didn't really show itself until the Presidential election of 2016, is the fact that Ben Mankiewicz, the guy who stepped up to do weekends a few years ago, and seemed to be somewhat tolerable, has turned out to be just another Hollywood Liberal Turd with his stupid and "nobody-is-watching" Young Turks news program.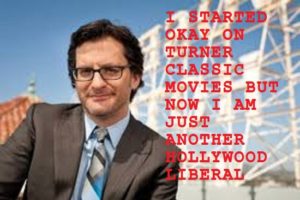 Mankiewicz sat at the Young Turks News Desk ( if you can call it that)  on election night along with his panel of totally untalented, uninteresting and utterly unlikable cast of young Turks and bemoaned the election of Donald Trump.  Of course this was  not related to his duties on TCM, but that kind of shit trickles into the whole diorama that is TCM.  
Here's the thing, Ben:  When a TV show has class, and Hollywood Liberals start to leak in, the viewers flee because the show starts to become coarse.  And, like Hollywood itself, the whole shebang loses its charm.   Because of this Hollywood Liberal factor that seems to be penetrating to the core of TCM, the show has changed and become…SHTICKY.    Do you know what I mean when I say SHTICKY?
Now they have this new thing where they bring in viewer co-hosts, and of course these people stink and bore you to death.  There is a reason why some people are fans and some people are on-air hosts.    The fans, for the most part, totally stink and should not be set before a camera.  It's dumb — but not as dumb as the TCM WINE CLUB.
What merchandising skunk came up with that stupid idea?   "Yes, this hearty Merlot goes great with any Bela Lugosi movie because its dark and dangerous aromas take us back to a bleak  forest…."   It's so dumb that it's not even worth writing about.   They really have to get rid of that TCM Wine Club.  Get real, TCM.  You need movie stars – if they're still alive and functioning – to introduce the films for which they are famous.
They had some nobody introduce THE BAD SEED when they could have gotten Patty McCormack herself to introduce the movie.  She's a very talented and engaging actress — and she is very much still around.  Why do you need some nobody in that seat across from whomever, when the real thing is probably ready, willing and able?  Hollywood is Hollywood because people get sick of seeing nobodies in their daily lives every day.  Movies are our escape from nobodies.  Of course you can't dig up most of the dead stars who play in these films, but at least make an effort to recruit some names.  
SUMMATION:   Without Robert Osborne – deceased- Turner Classic Movies is slowly getting shittier and shittier.  Eventually it will have commercials and a reality show.   If you've tuned into TCM lately you might hear, "Sorry, wrong number."  Not the movie – the operator.