First off, let's call a spade a spade.
Here is the TWEET.

ROB REINER – NANCY SINATRA — TWO TWITTER ASSHOLES
HERE IS THE TWEET:  
Nancy Sinatra is only famous because her father was Frank Sinatra.  She had no talent and no looks.   She is now an old and horrifying asshole who says stupid and uninformed shit on Twitter because she's basically an idiot who grew up in the booze-soaked bubble of the over-hyped and shit-wipe world of her father.
Recently, after the death of a black man who was shot by police, Nancy cried out on Twitter for the people to, "RISE UP!"  The next day 5 Dallas policemen were dead.  Did her Tweet cause that to happen?  Let's say…it didn't help.
NANCY SINATRA THINKS THAT YOU HAVE THE MIND OF A 4-YEAR-OLD CHILD IF YOU VOTED FOR DONALD TRUMP.  SHE SAID SO ON TWITTER….SO THAT'S WHAT YOU GET FOR BUYING HER RECORDS.  
In the early 1950s, Nancy Sinatra – not naturally pretty like her sister Tina — was a dark, swarthy and homely dog. So, in the the 1960s, because she was Frank's daughter, an army of plastic surgeons and dental surgeons and cosmetics experts were called into make the family dog look presentable.  This had to be done because Nancy's "father-ordered" recording career would not have had a chipmunk's chance in an owl enclosure with her looking like a greasy and homely waif who had just arrived at Ellis Island.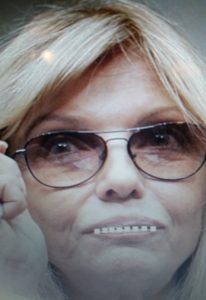 Later, when her hair was made blond and her body was developed, she was handed the keys to the recording studio, where she was then easily escorted — with the help of a lot of echo chambers and crafty mixing — onto the pop charts with a few songs that now, since she is nearing 80,  still tag along behind her and her walker and her wigs and her homely shriveled face and flat, deformed mouth which is being reclaimed mercilessly – in all its ugliness – by a vengeful god.
Then there is Rob Reiner — an absolute no-talent — who, like Nancy Sinatra, is the spawn of a TV icon — who was never really funny either.  But Hollywood, being what it is, allows a lot of no-talents to slip in and get famous.
In Rob Reiner's case, he went from a homely, shapelessly lumpy, balding, comb-over doofus, to a starring role on TV show that I believe ruined the basic morals of America.
"ALL IN THE FAMILY" a show lifted (stolen) from British TV by Norman Lear, another asshole who never had an original idea in his life, depicted the common man of America as an uneducated moron who needed a Jewish son-in-law (disguised as a liberal Polish-American college student) to enlighten him.
Norman Lear cleverly turned Ward Cleaver – the reason why America was once great — into a thing called Archie Bunker:  A uneducated, stupid, unread, unworldly, intolerant, stupid, bigoted lump of shit who represented everything that Norman Lear despised.
In other words, Normal Lear, using Rob Reiner's character as a catalyst, took the working man of the USA and re-invented him as a monster.   This was a criminal thing to do, but the dopey White Christian Americans laughed without realizing that they were being mocked.   THEY were the butt of the joke.   Pretty shrewd, right?
ROB REINER THINKS THAT YOU HAVE THE MIND OF A 4-YEAR-OLD CHILD IF YOU VOTED FOR DONALD TRUMP.  HE SAID SO ON TWITTER….SO THAT'S WHAT YOU GET FOR WATCHING HIS MOVIES. 
"Michael Stivik" (Meathead) was depicted as a Polish-American liberal, but that's how they do it in Hollywood.  A Jewish character  — always smarter and wiser and funnier and more compassionate — is depicted as something else – something charming –  so that the show will play in Peoria.
It's a gimmick from which Rob Reiner benefited greatly, and one which Norman Lear used to defame and diminish the common man.  For that he is viewed as a genius, when, as I said before, he stole the show from a British sitcom and molded it to fit his HOLLYWOOD VALUES — all of which are anti-American and hateful.
Then, Hollywood being Hollywood, and people named Reiner getting the untalented leg up, Rob went on to be a director and so on and so on and so on.  Rob Reiner is a fatter, balder, older, and less talented version of Ben Stiller, and any Coppola who ever fell out of a uterus.
In my opinion, Rob Reiner and Nancy Sinatra are two untalented assholes who got in on the ground floor because they were the evil spawn of two big names.  
If Rob Reiner's dad Carl Reiner had been an accountant in Fresno, Rob Reiner would now be a retired accountant in Fresno too.  If Frank Sinatra had never made it as a singer and ended up working in a bar or restaurant,  Nancy Sinatra would be a retired pizza waitress dating an 83-year- old bookie and carrying around his nitroglycerin tablets and portable oxygen tank.
So — what is the point of all this?  Why have I singled out Nancy and Rob?   Why do I dislike them?  Why do I focus on the obvious fact that they are the untalented kids of talented or marginally talented people?
I do this because they are both busy on Twitter — Tweeting out their LIBERAL TOLERANCE by HATING Donald Trump and everyone who voted for him.  They cannot face the facts.  They can't sit back in their walled mansions and let things be.  They have to spout their sickening and stupid shit because they crave relevance.

"Deep down they know they are not talented or important people," said psychologist Judith Traherne.  "They know, although it's deeply hidden in their psyche, that they are impostors.   Because they live with the throbbing unconscious and subconscious nagging knowledge that they have no true relevance or talent of their own, they  use their strange fame to again become relevant…but it's too late.  They hate themselves, so they hate anyone with whom they disagree.  It's very basic psychology when you put all the pieces out on the table."