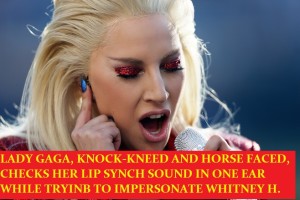 Decked out in her best WHO FRAMED ROGER RABBIT copy-cat dress, hair and makeup,  Lady Gaga — a knock-kneed old hag, sang the Nation Anthem at tonight's Super Bowl and copied, note for note, the historically original vocal arrangement which was done by Whitney Houston a thousand years ago.
MORE PICS OF LADY GAGA'S pantsuit —->Da Gaga Crimson Red Pantsuit pics.
"Even in her red sequined pantsuit that she got from a Hillary Clinton inpersonator drag queen, you could see that Lady Gaga  is badly knock-kneed and horsey," said Dr. Raymond Totundi, an orthopedist and a trained vocalist who heads the SKYLIGHT INSTITUTE in Bern, Switzerland.
"She looked like a red mule.   My youngest child was frightened and we had to switch the channel to AIRLINE DISASTERS.    She was trying to copy Whitney Houston but she sounded instead like an ugly girl who took vocal lessons while her sexy friends were out getting laid or hooking up with hit guys in Seaside Heights."