ZOOM IN AND  SEE FOR YOURSELF AS YOU READ ALONG.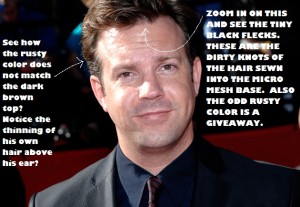 Jason Sudeikis, a comedian who is not really funny and gets a lot of awkward giggles from audiences who only know how to laugh when they are instructed to do so, wears a very expensive hairpiece.  He thinks nobody knows — but we here at The Damien Zone.com are CERTAIN.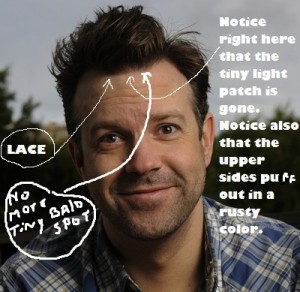 A source close to the cancelled show, "Melissa and Joey" which starred Joey Lawrence and Melissa Joan Hart, had this to say.
"I always suspected that he was handing his hair over to Mildred Sclafani, the Hollywood makeup guru who had the hazardous job of fixing up Joey Lawrence after he went through his spray-on hair flecks stage, and now, with this newest photo, I am certain that Jason is wearing one of her hairpieces. She does great work for the camera but sometime in real sunshine, you can see something is wrong.  There is a rusty look and a subtle demarcation between top and sides." 
The photo in question reveals the bald truth.  To the untrained eye, any hairpiece that is not OBVIOUS usually goes undetected until someone notices something — something askew.   In the case of Jason Sudeikis, the bright light photo shows that he is wearing a hairpiece that is made from an ULTRA light lace base.  It's the same kind of hairpiece that Hollywood stars have worn on film for decades.   It's a secret that a lot of big names took to their graves.
If you look at screen tests for "Gone With The Wind" you see two tests of Leslie Howard, the actor who played Ashley Wilkes.  In the first take he is sporting his own thinner hair, but in the second take, the clapboard clearly states:  Leslie Howard with lace."  In this second take you can see that the actor has much more hair and his hairline is not receding.
It's old Hollywood technology that has only recently become somewhat available to the public.    Hairpiece services who advertise that they use lace, are really not telling the whole truth.   They may sell hairpieces made with a lace base, but it's not the same.  These wigs were made by master craftsman at the major studios and not by some Chinese drones working sunrise to sunset in some dirty factory.  There is only one hairpiece seller in New Jersey USA who actually uses these great pieces, and his are far better than the one we are seeing here.  The trouble is they are expensive and they require maintenance.
If you look closely at the picture of Jason Sudeikis — best way is to save it and zoom in on it  — you can see that there is a reddish rusty color to the bouncy top.    It's apparent that the thickness and color and texture do not mix well at all with his own side hair.   His own hair – which seems to be only on the sides – is brown with a little gray.  Also, if you zoom in on the hairline, you can see timy black flecks.  That is the knot of the hair.  It is supposed to be invisible, but when the hair has been worn for several days, the knot gets wet with sebum ( head oil) and sweat.  Dirt particles stick to it and make it stand out.  This is what we are seeing here with Jason Sudeikis.
In the first photo there is a small thinning patch in the middle front, but in the second photo it is gone.  The reason for that is that these lace hairpieces are very fragile.  They do not last more than a few weeks.  Hair falls out – usually in the front first.   In the second phopto you can see that the thin spot has vanished.  The lace has either been repaired (doubtful) or the entire hairpiece is new.
I have labeled the photo and you can see for yourself.
The reason I looked into this is because there must have been rumors about his hair.  On several shows — late night mostly – Jason seems to make a point about his hair.  He even went so far as to have a best hair contest with Conan O'Brien.    Some people suggested  that he had had a series of hair transplants, but that is not the case here.  This is a toupee — a very good and very expensive one — but a toupee nonetheless.