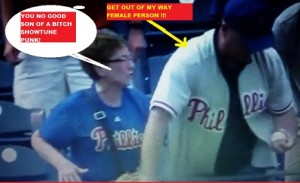 Fox Sports Arizona announcers Steve Berthiaume and Bob Brenly were in complete shock yesterday when a big, beer belly, pushy, bully, block-headed douche bag shoved an older woman like she was a piece of dirt in in the gutter just so he could retrieve Maikel Franco's first home run ball at the Diamondback -Phillies game.
The big slob was later identified as Brod Kearnbleu, a 33-year-old locker room attendant and laundry manager at a men's spa and sauna  somewhere north of downtown Philly.
"He would have pushed that poor woman over the rail to get that ball, " said a fan who refused to be identified.  "He has some kind of weird fixation for Franco and he wanted that ball regardless of whatever he had to do to get it….and he got it.  He was walking back and forth yelling, 'Franco, Franco, Franco."  It was freaky, and then he shoved that old lady really hard.  You could hear him grunt. "
MORE PICS TAKEN HERE: Diamondback photia — the link might be broken now but it worked last night.
Friends of Brod Kearnbleu, who later negotiated an undisclosed deal with Franco's entourage for the return of the ball, said that he has changed a lot in the past year and that ever since he got the job in the  sauna, he has become very obnoxious and unpredictable.
A childhood friend who only identified himself as "Greg"  had this to say:
"He's turned into a bully over the past year and always trying to prove his masculinity.  Especially now that he moved in with his uncle.  
"All he does is worship Franco.  Something happened to him since he started working in that spa place.  He used to like baseball like a normal person but he also enjoyed art and music and he was a genuine cool guy.  Now he's a jerk."
According to Damien Zone sources, Brod Kearnbleu grew up in Bakersfield, California and moved to the Philadelphia area after graduating from an undisclosed two-year college where he majored in theater and landscaping design.
"I never liked the guy since the day he signed the lease," said his landlady who prefers to be anonymous. 
"He's like, I don't know, I guess you would call him a meathead or something but he has a delicate and sensitive side.  He used to be somewhat likable but he's not anymore.  
"He likes to listen to rock music all day and he's always taking pictures too,  but then he blasts the baseball games on the TV and radio all day long most of the time.
"His uncle is a shady guy too but he pays the rent on time.  All they ever do is order take out food and they don't recycle the cardboard Chinese boxes like they're supposed to.  I would say that Brod has gain about 50 pounds since he moved in with his uncle.  I don't know what's really going on with him,  but I always say, 'live and let live,' especially if they pay the rent and don't take dope. "
Brod Kearnbleu was not available for comment.