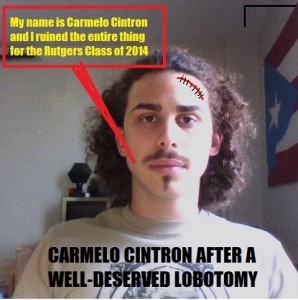 While most of what I call the "S.W.A.F." community — Students With A Future —  at Rutgers University are finishing up their studies and preparing to move onward and upward with their lives, their polar opposites — your garden variety  bunch of campus misfits and sub-mediocrities — decided they were going to cause some trouble.
By causing this trouble, the misfits have deprived the normal-minded and otherwise academically inspired class of graduating seniors — Rutgers University Class of 2014 —  from receiving a commencement speech delivered by perhaps one of the most politically prominent figures of the 21st century — former United States Secretary of State Condoleeza Rice.
The misfits in question have stolen a great chance for so many students.  If these imbeciles couldn't accept Condoleeza Rice as their speaker — because in their demented minds they have branded her a war criminal — they should have at least given the greater portion of the student body this opportunity of a lifetime.
But…that's not what misfits do.  They are dangerous sleepwalkers who, on the rare occasions when they are awake, are still dreaming in a self-absorbed and stupid land of imagination.
Headed by an intellectually limited cuckoo clock named Carmelo Cintron– who is  seeking out some kind of Ché Guevara vibe with his new exalted name Carmelo Joel Cintron Vivas — the campus misfits have done what campus misfits have done for decades – they have formed some "we-really-don't-know-what-the-fuck-our-beef-is" group called the  "NO RICE CAMPAIGN" and what started out as a small bunch of diseased malcontents, soon spread to a bunch of other intellectually compromised students — you know — more losers with lifelong buzzards of non-achievement circling over their heads.
Remember, my friends, the Misfit Syndrome spreads easily on college campuses.
Much like  Community Acquired Pneumonia and Meningitis — communicable diseases that spread and kill rapidly on college campuses — the Misfit Syndrome can kill too.
The Misfit Syndrome, however,  kills only as slowly as life itself.  It takes what could have been a happy and productive life and turns it into a life of stupidity and dumbness.
The Misfit Syndrome drags the afflicted one down while he or she takes away a small piece of common civility each and every day until they've made their world and the world around them so coarse and so backwards, that it can no longer sustain human life as we know it.
The Misfit Syndrome is a disease that doesn't lead to death per se — it leads to nowhere.  And, these days, nowhere seems to be a very crowded hangout.  It's the hottest spot in….nowhere I guess.
This would explain why the misfits at Rutgers were totally okay with Snooki giving a speech about her nails and her hair and drunken sex in a Seaside Heights hot tub, but yet they have an incredible problem with perhaps one of the most accomplished African American women in the world.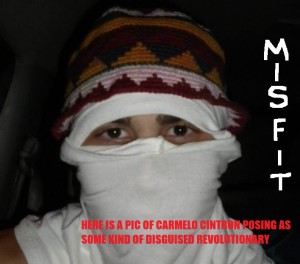 Wait a second, Damien.  Hold on there.
You mean to tell your readers that some young people at Rutgers protested against an African American woman of great achievement?  You are saying, in an open forum, that they protested openly against the female descendant of Alabama sharecroppers who grew up to hold what is perhaps the highest politically appointed positions in all of world government?   You say there were some crazy people who opposed this?
Surely this must have been the work of the KKK or skinheads, right, Damien?
Sadly, no, my friends.  It was not the work of the KKK or Skinheads USA.  It was the work of some incredibly stupid and self-destructive misfits who want YOUR happy moment to suck.  That is their entire raison d'etre.
Imagine the prestige of having had someone like Condoleeza Rice speak at your commencement?   This is a story so many students could have carried with them for the rest of their lives.  Well – better luck next time, kids.
"But there is no next time, Damien.  What do we do now?"
Hey, don't bother me.  Take it up with Carmelo Cintron and the rest of the fucked up misfits who fucked up your graduation ceremonies.
Perhaps I can offer this compromise to Carmelo Cintron et al:
If you don't like Condi, but you're totally down with a famous black woman giving the commencement address, why don't you ask the great Joanne Chesimard — aka Assata Shakur — to make the speech?
Yes, I am CERTAIN that Carmelo Cintron and the misfits at Rutgers would have been totally fine with someone like her.  After all, JoAnne Chesimard — I mean Assata Shakur —  is a great woman — a great African-American/Cuban poet, right?
For the love of god, people, Carmelo Cintron doesn't even know who the hell I am talking about – or if he does it's simply because some mentally sick professor taught about her in a class called Cop-Killing Poetry 101.  Sounds nutty, huh?  Don't think that course won't be worked into a curriculum somewhere and sometime in the near future.
Cintron is, after all, a student of "Comparative Literature – Cultural Theories and Practices — that's what he writes on his Facebook profile.  I wonder what kind of half-wit writers he has studied.  Certainly he can't be familiar with the Classics.  Those stupid things were all written by evil, white, European men.
So why did they do this?  Why did Carmelo — the stupid ass with the greasy razor cut hairstyle he probably got at the Woodbridge Mall Barber Shop —  screw up everyone else's chance of a lifetime?
The answer is very simple.  He and his fellow losers conspired to ruin the show because they are not really part of the cast.  They are not even in the chorus. They failed the audition.  Only P.T. Barnum will hire them….but he's dead.  They are stupid and simple, yet they have convinced themselves that they are very smart and that their ideas and their version of the show is highly profound.  They couldn't get a part in the real show, so they called in Spanky and Darla and Alfalfa and put on their own show.
Also, in all seriousness, they did this because they are undisciplined, unknowing, unlikable,  and starved for attention.  They do this because they are loathsome misfits.
I have told my readers before that the "MISFIT SYNDROME" is alive and well and easy to spot throughout all of the world.  I know this sounds very sad, and if they're sick they should be helped.  But please do not fall into their trap.
In any event, since there is no way to legally quarantine (for life) a few dozen  mentally curdled college miscreants from the rest of the student population, Condoleeza Rice graciously backed out of the invitation she received from Rutgers with this statement:
"Commencement should be a time of joyous celebration for the graduates and their families." 
"Rutgers' invitation to me to speak has become a distraction for the university community at this very special time."
Now, let me explain what happened here because most people will simply see this as a case where a bunch of college kids made a fuss.  You know — hehe —  they're still in that teen angst phase, and they haven't had enough of that revolution stuff — but that's not what happened, folks.  What happened at Rutgers this week is a harbinger for the future of the tired and crumbling USA.  The future of the USA is that there is little or no future for the USA.
Of course the S.W.A.F. community – Students With A Future — will move on to bigger and better things, but the misfits at No Condi Campaign are gradually taking over, and soon the S.W.A.F. people will have to form a new nation.  It's inevitable.
Within 50 years, the USA as you know it today, will not exist.  It will be divided into separate countries.  Some of these countries will be rich and prosperous while the other "One Nation Under Beyonce"  will constantly teeter on the edge of Third World-ism.  Naturally the S.W.A.F. countries will have to send them aid. 
This will happen because a nation cannot stand united when accomplishment, truth, honor and justice are frowned upon and the patients are running the asylum. 
For some psychotic reason, the news media — with FOX getting the lion's share of the story out to the masses — is giving Carmelo Cintron airtime.  Perhaps Laura Ingraham got a charge out of talking to this lamebrain, but why illuminate him?
if you look at Carmelo's Facebook page, he is the star du jour and many of his followers prefer to write in Spanish — the official language of One Nation Under Beyonce.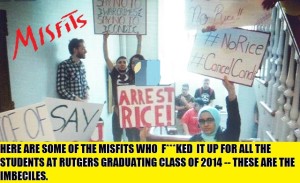 Cintron is getting his 15 minutes — but there is something else that's deeply disturbing about his army of cretins — a lot of them seem to be Muslims?   I wonder what that's about.  Cintron is a Puerto Rican.  Why is he supported by so many Muslims?   Is he some kind of front?  I mean, he must be, because he's been on every news show as the spokesman for the group, and the kid doesn't even have the brain of a lemon.
We shall see, my friends.  We shall see.
I urge all REAL students of Rutgers University to snub and sneer and stigmatize the misfits who ruined their graduation ceremony.
Written in Brussels, Belgium – exclusively for TheDamienZone.com by Damien LeGallienne.  
EDITORS NOTE:  IT IS VERY EASY TO COMMENT ON THE DAMIEN ZONE.  WE DO NOT PUT YOU THROUGH A LONG PROCESS OF SIGNING UP AND VERIFYING EMAILS.  THE DOWNSIDE TO THIS IS THAT IT MIGHT TAKE SEVERAL HOURS FOR YOUR COMMENT TO APPEAR.  SOMETIMES IT TAKES A FEW MOMENTS AND SOMETIMES IT TAKES HOURS — BUT IT WILL APPEAR — WE CAN ASSURE YOU.  WE WELCOME ALL POINTS OF VIEW AND SOMETIMES ONE OF THE THE EDITORS WILL  ANSWER….EVEN IF YOU INSULT THEM.