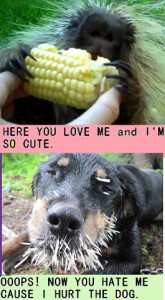 Is Teddy Bear The Talking Porcupine a Hoax?
Damien LeGallienne
Reporting for: The Damien Zone.com
There's a new IOC (Internet Only Celebrity) sweeping the through the meaningless lives of the mindless morons of Facebook and all the other kinds of "this-is-so-cute-you-have-to-watch-it" social media, but this latest one is really worth all the fuss — or is it?
As some of you know, I openly loathe the FSWS (Facebook Simpletons Who Share) community, but this time, they may have found an Internet Only Celebrity (I.O.C or Eye-Yok) who is really cute and totally adorable and incredibly loveable — and probably FAKE — but I'm kinda-sorta not sure yet.
Yes, of course I am talking about Teddy Bear the Talking Porcupine.
If you're a Facebooker and you have some simple-minded Facebook friends — and who doesn't — you probably already know all about Teddy and you've seen his viral videos.
You've seen him eating corn on Thanksgiving, rose petals on Valentine's Day,  pumpkins on Halloween, and if you live in Vietnam — where they love to eat these critters — you will soon see him eating lead.
The gist of Teddy's viral videos — the things that makes them so adorable and appealing to the mentally limited — is the fact that Teddy Bear the Porcupine, talks while he eats — or at least it sounds like he's talking or mumbling.
"Teddy" — who refers to himself in the first person on his very own Facebook page — appears to make strange gurgling, peeping, murmuring and some outright creepy sounds when he eats something he especially likes. The final irony is that Vietnamese people make the same sounds when they eat porcupines — so that's an interesting anthropological observation for those who enjoy that kind of scientific stuff.
Anyway, I can be a real killjoy — I know that.  I don't do it because I "live in my mom's basement" or I am "off my meds" or because I am "pathetic" and a "sad and unhappy little man." I do it because truth is more important than anything. Without truth you don't have truth and without truth you don't have truth.
Keep an eye out for the puns in the next paragraph and see how many you can count. Every time someone on Facebook guesses which word is a pun and then shares this story with another Facebook friend, a sick baby will get a free heart transplant and a pet porcupine.
I know that some of you will take out your quill pens and hurl barbs in my direction because you love Teddy Bear The Talking Porcupine, but doesn't a shiver go up your collective spines when you wonder if the voice of Teddy is perhaps dubbed by a human — like when Harry Mandel did the voice of Gizmo in the flamboyantly moronic film "Gremlins."  I don't want to be prickly about this, but something is suspicious about the whole thing. Some of you rodents out there don't like my opinions — I understand. You can needle me all you want in the comment section.
Be that as it may, something is screwy about the whole thing. I keep watching and watching Teddy's videos — waiting for that slip-up where it becomes obvious that somebody is pulling a fast one — and I found it.  I found the gimmick within the gimmick.
There are already far too many still photos of Teddy posing on his Facebook and YouTube pages with various football team helmets as background props.  It looks like the master plan by Teddy's "people" might be to create a new kind of spiny Spuds Mackenzie for want of a Super Bowl deal.  For that reason alone, I think Teddy's hungry chatter is fake.
Sorry, but I think that Teddy Bear the talking porcupine is not the little Chat-N-Chew that somebody is making him out to be.
I asked an expert. I always find someone…sometimes I even check their credentials.
"Porcupines are very vocal creatures. They make all kinds of sounds but mostly they grunt or squeak to let other porcupines know where they are. They're mostly nocturnal and it's rather hard to determine which sounds come from which animals. Porcupines in captivity are usually quiet and as far as this Teddy the talking Porcupine thing goes, I have never seen these kinds of vocalizations from a porcupine…but anything is possible with an animal who is already known to vocalize. I once saw a cat who said 'Mna Mna Mna Mna Mna Mna' all day long, so maybe Teddy's videos are real."  You can learn a lot about this subject from this famous zoologist here – http://www.imdb.com/name/nm3834680/?ref_=fn_al_nm_1
Well — I don't care what this expert says. Teddy has NOT appeared in National TV to strut his stuff — he is an IOC or INTERNET ONLY CELEBRITY — so that's kind of suspicious right there.
I think — but I am not sure — that he had a chance to be on the Today Show with none other than that suave and debonair lady's man-slash-meteorologist named Sam Champion, but he turned it down because of prior charity commitments. Sounds pretty prickly if you axe me.  What kind of charity event needs a procupine — Kids With Quills?  Sorry — I ain't buyin' it.
So the question remains: Is Teddy Bear the talking porcupine a hoax or is he real? The answer is — I DO NOT KNOW — I suspect he is totally fake — or at least his voice is fake — but then again, I am miserable son of a bitch and I live in my mom's basement.