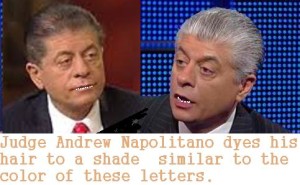 Fox News pundit and on air personality, Judge Andrew Napolitano, has gradually dyed his hair from its usual salt and pepper color to a new brownish-reddish-greyish color but nobody in the hair styling industry can seem to figure out exactly what color he has used. Whatever it is, the color and the texture and the low hairline make Judge Andrew look like a female to male transsexual.
This writer at the following link got more photos of the judge and is investigating the truth. http://www.imdb.com/name/nm3834680/
"Judge Andrew has a very low hairline much like the ape woman Theresa Giudice from the Real Housewives of New Jersey," said stylist Billy Kornilius of Monsier Billy's Hair and Makeup Designs in Long Valley, New Jersey where he specializes in cutting hair for closeted gay and bisexual policemen.  Of course I am just joking but Billy a real stylist and I know there is at least one bisexual cop in Long Valley….but I digress. 
"Judge Andrew used to come here for his haircuts and we always did a silver Roux rinse on him with a simple cut. His hair has thinned over the years but his hairline has not receded like a normal man his age. It just got thinner and more gray no matter how often we used Roux rinse.
"They haven't made Roux in years and I often had to go to Chinatown or swap meets to get it — and it had mercury in it so that can't be good.  Now I see him on the TV this evening and I don't know what specific color he has used to dye his hair. I think it's terrible and I wish he'd come back to me to get his hair back to looking normal again.
"Anyways, I have combed through all the professional dyes and he must be mixing his own colors because I can't find that color anywhere in our business but I have to say that it looks familiar."
TheDamienZone admits that we do not know all that much about Judge Andrew Napolitano, but we did look at before and after photos, and we have to admit that his new hair color is rather unique in nature. Something seemed out of place.  So, being the intrepid news organization that we are, with a lot of time and effort we tracked down Rita Nazzara-Pauly who is an expert in extreme makeup and hair technique. Ms Nazzara-Pauly gave us some answers that might shed some light on the true name for the color of the judge's newly dyed hair.
Here's our letter from Ms Rita Nazzara-Pauly LPC CPA.
"I had the judge photographed with a high resolution camera and then took that high quality image to Home Depot where they put the color through a light sensitive color-scanning computer.
"The results showed that Judge Andrew Napolitano has probably mixed 20% of Clairol #266 with 75% Clairol #108 and 5% Garnier # 007 and he has also added what we in the industry call, a 'drabber' which helps to eliminate too much of an age-inappropriate shine or luster. The official name for this color would be Medium Ash Champagne Auburn #0789. The color itself was once available but now it must be mixed precisely on the premises of a licensed cosmetician.
"Further study revealed that this color has been used before by such stars as Natalie Shafer who played Mrs. Howell on the TV sitcom Gilligan's Island. She used this color in the pilot epiosde only. For the rest of the run of the show she went with a much lighter shade.
"Also, Rue McClanahan, the costar of the legendary TV sitcom The Golden Girls wore this for the entire second season as did the actress Audra Lindley for the TV sitcom, The Ropers.
"It's not really a very obscure color but it's very hard for a man to pull it off unless he's doing something theatrical or something of that nature."
So there you have it. folks.  Judge Andrew Napolitano of Fox News has dyed his hair, and the color he has chosen — Medium Ash Champagne Auburn #0789 — was once a favorite with a lot of women from old television sitcoms. This might explain the transgender kind of look the judge is now sporting.  Good for him for showing his true colors….so to speak.
UPDATE:  The judge has now ratcheted up the hair color a few turns of the screw and now his hair is dark ash brown.  What the hell is wrong with this guy?  Is he a secret transsexual like some people say about Bruce Jenner?