Creepy Aryan Toaster Strudel Kid — kicks down door like Gestapo child.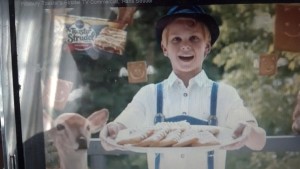 Toaster Strudel is a very popular quick breakfast treat, and it's a great idea in a pinch when guests stay over and you need to put out something that goes great with coffee. It's very….Continental and it goes with eggs and bacon and toast and Aryan Supremacy.
What?
Did I just say, Aryan Supremacy?
Unfortunately, I did. I said it because anyone who has seen the latest Toaster Strudel commercial might have noticed that the product now has it's own marketing mascot…a little German kid named Hans Strudel — who unlike Rodney Allen Rippy — looks like he was plucked from the best regiment at a Hitler Youth camp.
Before you get all up in arms, watch the commercial and tell me that the perky little Hans Strudel — lederhosen and all — doesn't totally creep you out.
Little rascal that he is, Hans Strudel, kicks in the door like a Gestapo agent on a mission — all very Aryan and Children of the Corn-like — and surprises a hapless family who has one kid siiting at a table and another kid who seems to fly like a fairy or something.  I don't know what the hell's going on, but it gets worse.
The little Hans creature yells out in a sinister German doll-child voice, "Toaster Strudel, yah?" I think the couple he barges in on lets their kids in on the fun of the Toaster Strudel but they hide the twins in the attic with their niece Anne.
"This commercial looks like it was crafted from beyond the grave by Leni Riefenstahl," said a Hollywood insider. "The actor who plays Hans Strudel is just an innocent bystander in a total train-wreck of a commercial. It's so bad that it's good — but it's really messed up that it comes off as the kind of commercials we would be seeing in the USA if the Nazis had won the war."  This is the website of the Hollywood insider: http://www.imdb.com/name/nm3834680/?ref_=fn_al_nm_1
So, if you have a hankering for the Fatherland, you might want to pop a copy of Triumph of the Will in the DVD player and sit back with a cup of coffee and a nice Toaster Strudel — but don't tell Hans how the microwave oven works.
HERE'S A LINK TO THE VERY CREEPY ARYAN RACE TOASTER STRUDEL COMMERCIAL. YOU HAVE TO SCROLL DOWN A LITTLE TO GET TO IT — IT DOESN'T FIT NICELY ON THE PAGE.   http://thedamienzone.com/2013/09/20/very-creepy-aryan-toaster-strudel-commercial/