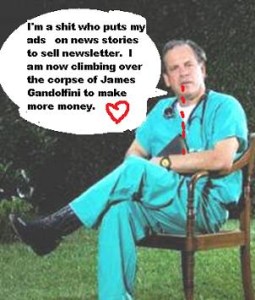 Maybe you've seen it?
The "news" link that warns you: "These Four Things Happen Just before a Heart Attack"– Have you seen it?
Have you also clicked on it only to find that it's actually just a 10-minute long infomercial from some money-grubbing asshole cardiologist named Dr. Chauncey Crandall?
In case you're curious, on top of being a cardiologist, Dr. Crandall is a circus barker with an MD next to his name – and he tells you a great and fearful story about a patient's experience while having a heart attack.  After you've listened for what seems like an eternity to the entire story, Dr. Crandall tells you the shocking truth — the patient he has been describing all along, is Dr. Crandall himself.  OMG!  Isn't that amazing?  NOT!
Yes, Dr. Crandall –who sadly survived his massive coronary — is the patient who is supposed to inspire you the reader.
Isn't that inspiring? You suddenly realize, "Wow!  All along he was the guy who experienced the pain in the arm and hand"— how incredible is that?  It's so inspirational and uplifting and eye-opening and f***ing annoying because he's a snake oil salesman.
There is nothing inspirational about it at all.   Dr. Crandall and the publications who misrepresent his scummy infomercial as a news item are all a bunch of grubby scum bags.
And if all of that crap isn't bad enough, you will not believe what the good doctor is doing now – his latest gimmick. It might make you puke up your guts, but please, please, please, read on.
Why do I hate Dr, Crandall and his heart attack link?
I hate it because it's a an INFOMERCIAL MASQUERADING AS A NEWS STORY and every low-life website and news outlet website is putting it up as a real news story and not as an advertisement — which is 100% what it is. They do this because they need the hits. They don't give a shit if you have ten heart attacks — just click on the story and don't die until after you subscribe to Dr. Crandall's useless newsletter.
Dr. Crandall posts up simplistic medical stories about heart and heart attacks that anyone with a brain stem already knows. He attaches a hundred links all over the internet and they are disguised as a news item.
If you click on the alleged news item you are taken to Crandall's website where you get his NEWSLETTER for free — but it's NOT FREE — NOTHING IS FREE. It's one of those, GIVE ME YOUR CREDIT CARD AND I WILL BILL YOU $54.00 AND THEN YOU CAN CANCEL IF YOU'RE NOT SATISFIED BUT WAIT'LL YOU SEE WHAT HAPPENS WHEN YOU TRY TO CANCEL THIS NEVER-ENDING BULLSHIT THING. And again, it is all presented as a NEWS STORY! IT IS A COMMERCIAL ADVERTISEMENT. PAY ATTENTION! IT IS A F***ING COMMERCIAL AD. IT IS NOT A NEWS STORY!
NEWSMAX and all the other desperate-for-advertisement websites like HUFFINGTON and so many other shitholes on the web, present it as a real news story when in fact it's a junky advertisement for a stupid and useless newsletter – AND THEY NEVER STOP TRYING TO PUSH THIS BULLSHIT ON READERS. Dr. Crandall has a really nice medicine sideshow gig going on all over the net.
Sometimes IT'S PRESENTED as a news story and other times they write a story about someone's heart attack and attach his name and links — this STILL makes it an ADVERTISEMENT! The only differnce is that they keep attaching new stories.
The latest way they are attaching this advertisement to real news is going to make you sick — and I'll get to that in a moment.
I hate Dr. Chauncey Crandall because he's medically simplistic and he writes solely to scare people and to get you to buy something from this egomaniacal, f***ing jerk who, by the way. should have f***ing died from his heart attack. If there is a god, Chauncey Crandall will have another heart attack and this one will find us rid of him once and for all.
Why am I so angry? Why do I even care?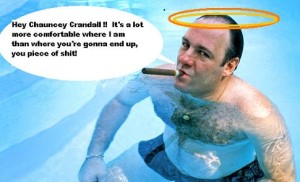 I am angry and I care because this time the sneaky son of a bitch has pushed the envelope a little too far. It was bad enough when he was just shilling for himself and his f***ng retarded and not-really-free newsletter, but now he's CLIMBING OVER JAMES GANDOLFINI'S CORPSE to further enhance his godless world of medical avarice in spite of the fact that he knows NOTHING about James Gandolfini's medical history. He is using the persona of James Gandolfini — now that he's dead and he doesn't have to pay him — to sell his bullshit newsletter. Can you imagine the fucking nerve of this quack?
This is the lowest I have ever seen a physician stoop to sell something. I once thought that the old monster Dr. Feder — the guy with all the grotesque plastic surgery who cells the bullshit Stem Cell Therapy face cream was a scum bag. I thought those two women dermatologists who shill for that credit card trap acne medicine infomercial were low-life pigs, but this Dr. Chauncey Crandall takes First Prize at the Low Life County Fair for doctors who have sold out their MD for a few extra bucks.
If I were a member of the James Gandolfini family, I would sue this son of a bitch and the websites who put up his infomercial as a news story for MILLIONS!! Dr. Crandall, in my opinion, is using the fame and ultimely death of James Gandolfini as a tool to sell his complete line of bullshit — and he wants your credit card number.
He should be crucifed for doing what he is doing. He is posthumously diagnosing James Gandolfini even though he did not know him. He never examined him. He has no clue about Gandolfini's health or why Gandolfini had the heart attack that killed him.
He is using generalizations that are so general that they could apply to anyone. In this case they are applied to James Gandolfini so that Chauncey Crandall MD can climb over the corpse of a dead celebrity to sell his fucking junk.
Does it get any more shameless than that? NO! It does not! The guy is a fucking scum bag!
In his latest informercial-masquerading-as-a-news-story, Crandall's advertisement goes with the headline — "James Gandolfini: A Walking Time Bomb."
The story — which is of course just a come-on for an advertisement banner — goes on to talk about James Gandolfini and his "massive coronary" — but Dr. Crandall didn't know James Gandolfini. Ultimately the entire thing is an invented story about somebody who "might' have a heart attack. It could apply to anyone but this cock***er Crandall and the people who shill for him, are using and abusing the death of James Gandolfini using a sleight of hand technique.
Crandall did not perform the autopsy on Gandolfini. He doesn't know anything about the weight of Gandolfini's heart or the degree of coronary blockage — if any — the actor was suffering from. In other words, Crandall is carefully wording a story about Gandolfini's death to make it look like Gandolfini is somehow attached to Crandall's product — but he's not. He's a just a famous guy who died at a young age from a heart attack. He did not know Dr. Crandall and Dr. Crandall did not know him. It's a complete fabrication that is cleverly worded to make the average moron think that they are getting beyond-the-grave advice from James Gandolfini via his doctor — and it's a lie.
Dr. Crandall, in his bullshit fake story/advertisement had NOTHING to do with James Gandolfini. He did not know him. He did not know anything about James Gandolfini's medical history and he did not conduct the autopsy. He's just some douche bag sell-out doctor who stamps his name on the story so he can cash in on his video and newsletter and grab a hold of your credit card number until he bleeds you dry with his fucking bullshit.
Note that as the fake news story about Gandolfini is written, there are five links to the Crandall infomercial – so that's how you know it's an advertisement and NOT a news story — but you would have to be an imbecile not to figure it out within three sentences.
One California doctor writes:
"Crandall writes sickening and hurtful things where he says that Gandolfini was on vacation in Rome and eating fattening foods. He names the food and the drinks so as to make Gandolfini sound like a gluttonous pig. He writes about how Gandolfini was already overweight and people on vacation often die of heart attacks — huh? He calls Gandolfini "overweight" –duh! So maybe he was — how do YOU KNOW that is why he died?"
Exactly. How do you know that he didn't die from a blood clot in his leg that he got from sitting on an airplane for 9 hours? You don't know, Dr. Crandall — YOU DON'T KNOW because you were NOT his doctor. No doctor on earth will make a diagnosis like that on the phone or from information taken from a non-medical media source, but Crandall does because this is how he makes MONEY selling you a newsletter — DON'T BE A SUCKER!
Crandall just writes this stupid shit and then puts a link to his (not really free) $54.00 newsletter and then he goes on to say even nastier things about James Gandolfini's lifestyle — what he was eating and the alcohol he was drinking and some god-awful remark about movie stars and drug abuse.
What kind of fucking scum bag are you, Dr. Crandall? Didn't you take an oath before you got that MD, you sick, greedy, scummy son of a bitch? Granny Clampett had more medical scruples than you.
Please — if anybody from the James Gandolfini family reads this — I beg you to SUE THIS SCUM BAG! Again, he is climbing over the corpse of a very famous dead person to turn a buck, and NEWSMAX and so many others are helping him.
For everyone else out there; if you ever see the the Dr. Crandall "These Four Happen Just before a Heart Attack" DO NOT CLICK ON IT! IT IS A BULLSHIT LINK TO SOMETHING HE IS TRYING TO SELL YOU.
If you don't believe me, you can read this link from a guy who doesn't seem to truly hate Crandall as much as I do but he smells a rat too. http://dontscamus.blogspot.com/2011/09/dr-chauncey-crandall.html
PLEASE COMMENT! THE DAMIEN ZONE DOES NOT CROSS CHECK EMAIL ADDRESSES SO COMMENTING IS VERY EASY. YOUR COMMENT MIGHT TAKE A FEW HOURS OR A FEW MINUTES TO APPEAR, BUT BE PATIENT, IT WILL APPEAR. KEEP CHECKING BACK. THE LONGER IT TAKES, THE MORE LIKELY IT WILL BE THAT DAMIEN LEGALLIENNE — THE EDITOR IN CHIEF — WILL PERSONALLY ADDRESS YOUR COMMENT.