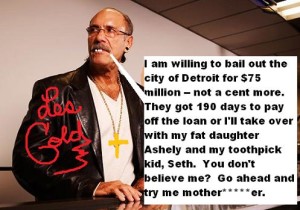 Les Gold, the guy from TV's "Hardcore Pawn" who owns American Jewelry and Loans pawnshop in Detroit has offered to bail out his beloved city which is now bankrupt.  Les Gold is offering the city scrap value for all of its gold, silver and platinum fictures, and he will also bail out the city with cash or a loan as long as they agree to his offer.
"Obama is refusing to bail out Detroit," said an accountant close to Gold.  "Les is offering $75 million and not a penny more and he believes that Detroit is getting a bargain at that price.  You can't get a deal like that no matter where you go.
"Les will give $75 million and charge 9% interest per month.  If Detroit does not pick up its pawn ticket with 190 days, American Jewelry and Loan becomes the sole owner of Detroit, Michigan —  a town that deserves to be saved.
"All you have to do is look at Les Gold's show 'Hardcore Pawn' and you will be able to see the quality and dignity and pure class of the people who live in the motor city — the greatest city that ever was. 
"The customers who are featured in the Hardcore Pawn show are living proof that Detroit is a city filled with a classy and elite bunch.  How people of this social class and status can just sit there and see the city sink into oblivion boggles the mind.  So they pawn a few things and then go and spend the money on their mansion in the Hamptons instead of keeping it here in Detroit where it belongs.  That's not nice.  That's not how you show support for your city. 
"If you want to see what a real man from Detroit looks like, all you have to do is look at Les Gold.  He knows how to drive a hard bargain, and if the Obama administration wants to play hardball with Les, he'll look them right in the eye and say, '$75 million — take it or leave it.'"
The whole situation boggles this writer's mind too because the people of Detroit, especially the clientele of Hardcore Pawn, are the highest class of people in the USA.  Les Gold knows this and this is why he does business with them on a daily basis. 
And you can trust Les Gold.  He will take good care of Detroit while it's in his hands.  Hey, if he can keep his eye on a $200.00 flat-screen TV for 2 years, he can certainly do good by Detroit. 
The Damien Zone thinks that Les Gold should be allowed to bail out Detroit on a 190 day loan ticket.  Sources say  that if Detroit can't pay off the pawn ticket in time, Les Gold will change the city's name  from Detroit to Ashley-Sethville and the entire town, building by building, brick by brick, manhole by manhole, will be sold for scrap.  Les doesn't want to see that happen because he deals with his Detroit customers every day on Hardcore Pawn and he knows that they are the cream of the crop on the move today and they represent the future of the USA.
BY:  DAMIEN LeGALLIENNE — EXCLUSIVELY FOR THE DAMIEN ZONE.  THEDAMIENZONE.COM
NOTE: Commenting here is very easy.  We do not cross check emails very often and the only drawback is that you have to wait a while for your comment to post.  The Damien Zone does not censor comments — unless it's somthing outrageous.  Be patient — your comment will appear.  Keep checking back.  If your comment annoys or impresses the editor, he will personally address it.