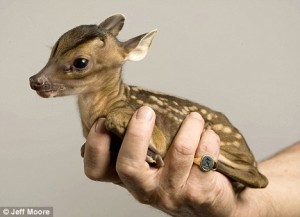 DID YOU GET THIS IN YOUR EMAIL? DID THE SENDER TELL YOU THAT IT "MADE THEM CRY" AND THAT THE LITTLE GUY IS A FIGHTER?
PERHAPS THIS STORY OF THE LITTLE BABY DEER WHO BEAT THE ODDS INSPIRED YOU. PERHAPS YOU SHOULD KNOW THAT THERE'S MORE TO THIS STORY….BECAUSE IT'S A HOAX.
Various incarnations of this story have been floating around since 2008, and the newest one is passing around Facebook and AOL mail. This time the little critter is being called "Rupert" but in other variations on this story, he's had hundreds of names.
HERE IS THE TRUTH — CAN YOU HANDLE IT?
HMMM — OKAY, PERHAPS IN THE HISTORY OF THE WORLD A DOE WAS STRUCK BY A CAR AND MAYBE AN UNBORN FAWN WAS DELIVERED 3 WEEKS PREMATURE — BUT THAT'S WHERE ANY CONNECTION TO THIS STORY VANISHES.
FIRST OF ALL, THIS FAWN IS VERY SMALL, NOT BECAUSE IT'S PREMATURE, BUT BECAUSE IT'S A SPECIES OF VERY SMALL DEER THAT IS FOUND IN EUROPE.
HMMM — PERHAPS SOMEWHERE IN THE WORLD SOMEBODY DID KEEP A LITTLE CRITTER IN AN OXYGEN RICH CHAMBER AND SOME VETERINARIANS SAID HE WAS A LITTLE FIGHTER — BUT IT WASN'T THE LITTLE GUY IN THESE PHOTOS.   THEY'RE ARE A LITTLE TOO PERFECT. THE FAWN LOOKS A LITTLE TOO PERFECT BECAUSE….
BECAUSE….A SIMILAR FAWN STORY THAT CAME OUT IN EUROPE IN 2008 DIED AFTER ONLY 2 DAYS IN THE VETERINARY HOSPITAL.  ITS LUNGS COULD NOT INFLATE PROPERLY AND IT WOULD NOT DRINK THE MILK THAT THEY COLLECTED FROM THE DEAD MOTHER. THE FIRST MILK A DOE PRODUCES IS CALLED "COLOSTRUM" AND THAT'S WHERE MANY INFANT ANIMALS GET THEIR FIRST IMMUNITY FROM VIRSUES AND BACTERIA.
SO THIS INSPIRATIONAL STORY ABOUT THE LITTLE FAWN THAT WAS DELIVERED FROM A DEAD OR DYING DOE IS TRUE BUT ONLY IN THE SENSE THAT THIS WHOLE THING DID HAPPEN SOMWHERE OR SOMETIME IN THE HISTORY OF VETERINARY MEDICINE– BUT THE FAWN IN THE ONE VERIFIABLY TRUE STORY DIED SOON AFTER HE WAS TAKEN FROM HIS DEAD MOTHER.   THIS NEWEST FAKE STORY BEING SENT VIA EMAIL AND FACEBOOK IS A HOAX AND SO ARE THE PHOTOS — AS A MATTER OF FACT, THE PURPOSE OF THE HOAX IS TO SPREAD AROUND THE PHOTOS.  PERHAPS THE PHOTOGRAPHER IS PROMOTING HIMSELF.   MAYBE IF HE HAD TALENT HE WOULDN'T HAVE TO RESORT TO THIS CHICANERY.   THEY'RE JUST PHOTOS OF A CUTE NEWBORN DEER — A VERY SMALL SPECIES OF DEER — AND THEY'RE STAGED. 
THE PHOTOS AND THE WHOLE STORY THAT IS CURRENTLY BEING PASSED AROUND IS FAKE. THE PHOTOS ARE OBVIOUSLY STAGED.  ALL YOU HAVE TO DO IS TAKE A GOOD LOOK AT THE PICS.
KEEP IN MIND THAT A NEWBORN FAWN FROM THIS SPECIES OF DEER WOULD LOOK EXACTLY LIKE THE DEER IN THE PHOTOS.  WHY DO THE PHOTOS NOT SHOW ANYTHING THAT IN ANY WAY RESEMBLES A VETERINARY SETTING OR A WEAK AND FEEBLE NEWBORN? THE STORY SAYS THE FAWN IS BEING FED VIA A TUBE, BUT WHERE IS THE TUBE?  WHERE IS THE MEDICAL EQUIPMENT? CERTAINLY A FAWN IN SUCH DIRE STRAITS WOULD NOT BE HELD UP FOR GLAMOUR PHOTOS — RIGHT?  THE DAMIEN ZONE LIVES TO UNVEIL DUMBNESS, AND THIS ONE ALMOST GOES THE LIMIT.
THE DAMIEN ZONE HATES THIS KIND OF SIMPLE-MINDED STUFF THAT PEOPLE PASS AROUND BECAUSE THIS KIND OF CRAP IS BORN ON FACEBOOK, AND FACEBOOK IS THE INTERNET CAMPGROUND FOR THE DUMBEST PEOPLE IN THE WORLD. SOMEBODY FOUND OUT ABOUT A FAWN THAT WAS DELIVERED FROM A DEAD DOE AND CONCOCTED THIS INTERNET HOAX.
LOW INTELLECT FACEBOOKERS WILL "SHARE" ANYTHING THAT IS MAUDLIN OR SENTIMENTAL OR STUPID BECAUSE, ACCORDING TO PSYCHIATRIST, DR. RAYMOND TOTE-TUNDY, OF THE SKYLIGHT INSTITUTE FOR HIGHER LEARNING AND DEVELOPMENT, "THE AVERAGE PERSON ON FACEBOOK WHO SHARES INSPIRATIONAL STORIES AND QUOTES AND POSTERS, FUNCTIONS AT A LOWER LEVEL OF INTELLIGENCE THAN THE AVERAGE PERSON IN ALL FORMS OF SOCIAL MEDIA."
THE AVERAGE FACEBOOKER HAS A LOWER IQ THAN THE AVERAGE PERSON, AND THE WILLINGNESS TO "SHARE" STORIES ABOUT SICK BABIES, AND ANIMALS OR PEOPLE WHO SURVIVE AGAINST ALL ODDS, AND ALL OTHER VARITITES OF INSPIRATIONAL (ALBEIT FAKE) STORIES, ARE PART AND PARCEL OF THE INFERIOR MIND OF THE PERSON WHO SHARES SIMPLE-MINDED THINGS ON FACEBOOK OR, IN THIS CASE, VIA E-MAIL. THIS SEMI-HOAX WAS BORN ON FACEBOOK AND IN A "FORWARDED EMAIL."
IF YOU WOULD LIKE TO READ A SIMILAR STORY ABOUT A PREMATURE ELEPHANT — A STORY WHICH IS FAR MORE FAKE THAN THIS ONE, YOU CAN READ IT HERE AT THEDAMIENZONE.COM AT THIS LINK http://thedamienzone.com/2011/10/31/premature-smallest-baby-elephant-on-facebook-is-a-hoax/
BELOW IS THE BABY DEER STORY AS IT APPEARS IN YOUR EMAIL AND KNOW THAT THE PERSON WHO SENT IT TO YOU, OR PASTED IT TO YOUR EMAIL PAGE IS VERY GULLIBLE.
A brief moment that renews our spirit and gives joy to the heart.
Kinda 'makes your day doesn't it ?
This tiny deer was delivered by Caesarean section at a Wildlife hospital after a car killed his mother. Little Rupert, who is so small he can fit in an adult's hand, was born after vets failed in their battle to save his mother. At just 6? tall and weighing just over a pound, he is now in an incubator in the intensive care unit atTiggywinkles Wildlife Hospital in Buckinghamshire. He has only recently opened his eyes. Les Stocker, founder of Tiggywinkles, said, "Rupert's mother had very severe injuries. We brought him out and got him breathing, and then he went into an incubator on oxygen. He is now being fed by a tube." Rupert in an incubator. Rupert pulls a striking pose for the camera. Staff members are optimistic that Rupert, now 5 days old, will make a full recovery. "Deer are very, very tricky, but this one has spirit. He's an extremely feisty, Little guy and quite pushy," Mr. Stocker said. Asleep: Rupert takes 40 winks.  Hope you will share this one.  
TheDamienZone says:  Note that they left out the part where the REAL fawn died ( SUSPICIOUS STORY TOO) after less than a day and it was never posed for glamour photos like this fake crap. Why'd they leave that part out? The answer is simple, the average person who sends this kind of stuff to you is a simpleton who doesn't understand that you have to think before you "forward" something that sounds or looks suspicious. Also, this is a very small species of deer so it's natural that an infant of this species would also be very small.  The fawn depicted appears to be a normal and healthy variety of this fawn. It doesn't look anything like a newborn who could not breath without help or was on IV fluids — but some people will believe anything. [Damien LeGallienne]