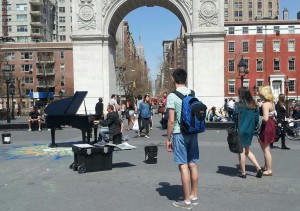 9, April 2013-NEW YORK — Washington Square Park and its somewhat miniature version of Paris' Arc de Triumphe grand entrance walkway has long been the loitering ballroom for New York City's young and hip and artistic crowd.  For over a century, artists, clowns, mimes, musicians with tin cups, dancers, singers — all kinds of entertainers — have performed or have enjoyed the performances here.  Break dancing and even rap music first came to the public eye in mainstream America when street perfromers introduced them in this park.
A young and yet-to-be-discovered Bob Dylan used to come with his guitar to this park in New York's Greewich Villiage to get inspired, and now thosuands are following is his footsteps including one very inspired young pianist.
"Washington Square Park is a place where the forces of inspiration and love and whatever god reigns over the universe, come to create music and art and poetry and dance.  It's the place where words and music and mind and body find focus and meaning." [Bob Dylan, 1977]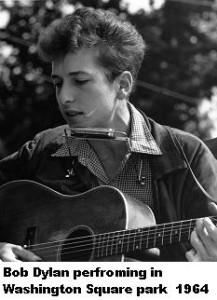 Today was an especially warm and sunny day in early April New York City and pianist/composer Carmine Feedy, a graduate of Julliard, waited patiently for the sound of a helicopter engine — and it finally came at 10:00am  EDT.
The helicopter was carrying a grand piano on a heavy cable as it lowered slowly over the center of the park and kicked up a swirl of dust and whetever was left of last autumn's leaves.  The piano touched down gently on its tethers while a crew of young "roadies" Carmine Feedy had brought with him quickly unhitched the piano from its moorings.  Then the helicopter rose up and vanished as quickly as it had appeared.  Total time elapsed — 4 minutes.
The black grand piano was set upon a pastel chalk painting of a starburst and within minutes Carmine Feedy sat down and gave the performance of a lifetime.  He started with John Lenon's "Imagine" and then he ran off a series of seasonally appropriate songs including, April Love, It Might As Well Be Spring, April Showers, April in Paris and then a somber version of Camille St. Saens, Ly Cygne (The Swan).
Even Mayor Bloomberg arrived and requested that Feedy play his favorite song — Irving Berlin's "What'll I Do"–  and he even sang a few bars after Feedy easily found a key that was comfortable for the mayor of the greatest city in the world.  Mayor Bloomberg was actually a  pretty good crooner and the crowd of young students and tourists cheered wildly.
"Arists young and old have been performing in this park for well over a century and more, ( it was founded in 1871) " said Mayor Bloomberg to a reporter from TheDamienZone.com, and I remember as a kid that I would often see Bob Dylan and Janis Joplin and even Frankie Valli performing here long before they became the icons they are today.  I used to come here to watch and listen and read my books — take it all in and find true relaxation and peace of mind. 
"Carmine Feedy's performance today is one of the greatest things I have ever seen in all the years I have known and loved Washington Square Park.  Dare I say that when I heard young Mr. Feedy play Chopin's "Tristesse" I started to get very sentimental and perhaps thinking of trying for a fourth term as mayor.  It was a very moving experience for me."
Feedy's father,  Mario "CeCe" Feedy is a prosperous vegetable and fruit importer and he did not hesitate when his son Carmine, a grandson of an Italian immigrant church pianist, asked for the money he needed to hire the helicopter and get all the permits he needed to play for nearly three hours.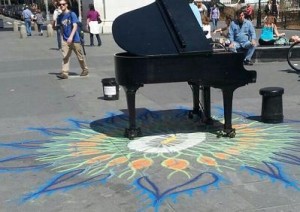 "My son has high tastes, let me tell you that right now," said the plain-spoken Mario Feedy.
"The whole thing had to set me back about twenty-five grand.  The piano was ten grand alone and the helicopter…I don't even want to talk about it.  If I knew what helicopter pilots got paid, I might have started out as a helicopter pilot instead of a kid with a vegetable truck, I'll tell you that right now. 
"But, you know,  I'm proud of my kid.  I'm proud of what he done today.  He's my little boy and he'll always be that.  I wish he would settle down with a nice girl for crying out loud and give me some grandchildren, but Greenwich Village is where he likes to be.  He runs my billing office from his apartment and I pay him good, plus he brings home a few dollars a week extra money playing at some place called the Monster and a few others night spots.  Like I said, I'm proud of him and the few dollars this whole thing cost me is gonna be worth it in the future when I have ten grandkids who can play piano at Christmas time for their grandpa.  You can't say that don't sound like a great thing to dream about, right?"
Feedy ended his concert at around 4pm and quickly returned to the Chelsea apartment he shares with his life partner Dominick DePlanno — and what about the piano?  Is the helicopter coming back?
"I am leaving the piano here for students from the Harlem Boy's Chorus to pick up and use in their rehearsal hall," said the piano-pounding Feedy between songs.  "They have a truck and some moving men coming in about an hour to take the piano away and I hope a young kid is inspired by the beauty of it all and goes on to be a great pianist or a musician of any kind.  My heart is too full to say anything else.  This is the greatest moment of my life.  I will never top this moment."