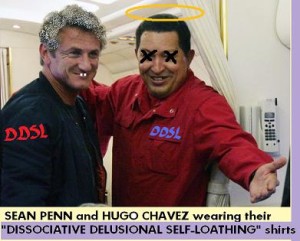 As hundreds of thousands of mindless and poverty-stricken Venezuelans marched the streets to honor the memory of their ersatz dictator Hugo Chavez, Hollywood's two biggest liberals issued statements that would have put them on Senator Joseph McCarthy's list of anti-American enemies of the State had they lived during a time when Americans had more self-respect and dignity.
The two Hollywood personalities in question are Sean Penn and Oliver Stone.  They should be jailed for life because they are too stupid to live with normal people.
Sean Penn and Oliver Stone, two Hollywood liberals who are often accused of hatred towards America, were, and still are, vocal supporters of controversial Venezuelan President Hugo Chavez,  They released statements following Chavez's death on Tuesday at the age of 58.
Sean Penn said:  "Today the people of the United States lost a friend it never knew it had. And poor people around the world lost a champion," Penn said in a statement to The Hollywood Reporter. "I lost a friend I was blessed to have.  My thoughts are with the family of President Chavez and the people of Venezuela."
Penn, who appeared at a December candlelight vigil for the cancer-stricken leader, added, "Venezuela and its revolution will endure under the proven leadership of Vice President Maduro."
Dr. Dean Trahern, an internationally reknowned psychiatrist, issued this statement about Sean Penn.
"Mr Penn is the suffering from a serious case of DDLS or  Dissociative Delusional Self-Loathing.  In other words, he hates himself so much that he can't cope with his life situation as it is so he therefore has to project that self-loathing onto someone who is important in his life.  In the average person, the object of this hatred and self-loathing would be a parent or sibling, but in Penn's case, the American public is a kind of parental figure.  He has grwn and developed into a man in the American movie screen, so he takes out his hatred on the entire country which he sees as a parental figure of sorts.
"This is not an unusual psychological problem and is very common in mentally ill people who live largely in the public eye.   He created a delusional realtionship with an equally delusional man like Chavez and often people who suffer from Dissociative Delusional Self-Loathing find each other and get along quite well — but the friendship is based only on delusions and mental illness.  There is no actual friendship per se, nor is there any understanding about true friendship with anyone in general. 
"Many victims of Delusional Self-Loathing are highly functional, but they usually have exhaused all relationships by the time they reach middle age.  I would imagine that Oliver Stone has he same illness since he and Penn seem to share an odd relationship that is based on various levels of delusion and self-hatred and that would explain why Oliver Stone also forged a relationship with Chavez."
Oliver Stone, who championed Chavez in his 2009 film "South of the Border," ( film that lost millions of dollars for anyone who invested in it)  said on Tuesday, "I mourn a great hero to the majority of his people and those who struggle throughout the world for a place."
Stone's statement continued, "Hated by the entrenched classes, Hugo Chavez will live forever in history." He closed his comments with, "My friend, rest finally in a peace long earned."