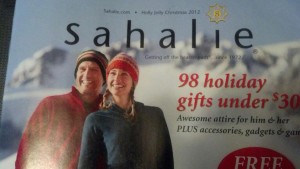 PLEASE — BECAUSE I LOVE MY READERS — DO NOT BUY ANYTHING FROM A CATALOG YOU GET IN THE MAIL CALLED "SAHALIE" — THE "SAHALIE CATLOG" SHOULD BE BANISHED FROM THE HOME OR USED ONLY TO START UP THE FIREPLACE.  I AM NOT JOKING. 
Right now is the biggest time for online Christmas Shopping and there are nice catalogs, boring catalogs and useless catalogs.  There is, however, one catalog you must avoid at all costs — one called SAHALIE.  A lot of people will have their holidays ruined if they buy from this catalog.  How this company stays in business boggles the mind.
All you want to do is BUY something nice, and when you browse through a Sahalie catalog, you see some things that look kind of nice.  Well — aside from the main reason why I have declared  SAHALIE to be the WORST CHRISTMAS SHOPPING CATALOG — the stuff isn't really nice when you get it.  It's just junk that photographs well — and you pay a lot for it — but that's ony a tiny part of the problem.
Here's the beef with the Sahalie Catalog.  They are basically running a rip-off.  You buy something with your credit card and then you become a prisoner.  Even the most seasoned internet cynic would not  see this happening.
Think about it.  You pick up a catalog — you see something you like — you go to the website and you order it.  Then there is a little banner that asks for your email address so you can get a 20% discount on your next purchase.  Well, that's where you're doomed — although TheDamienZone thinks you're pretty much doomed as soon as you buy something from Sahalie whether or not you enter your email address.
After you finalize your purchase, they send you about 5 emails — all of which are somewhat confusing and annoying — you do get a confirmation number for your order — but the emails keep coming.  Why?  Because they hope that you do not notice the sneaky email that tells you that they have — without your permission — joined their prestigious VIP CLUB.  Huh?   Yes — you are now a VIP member and "for the low low price of only $1.99, which will be charged to your credit card, you get $15 off your next purchase."   WRONG!  But wait — it gets worse.
After the 30 days — roughly about the amount of time it will take you to reach this email if you are the kind of person who ignores email from merchants — you will find that you ae being charged $15.00 a month for that VIP membership because you didn't cancel the membership — but to cancel that membership you MUST CALL a phone number that is buried somewhere in the bunch of emails they sent you.  You might have even deleted it.   Who looks at that junk mail?
Sahalie Catalog has a brilliant scam — they know you will ignore anything that looks like spam — pretty smart, huh?
The "cancel account phone number" you're supposed to call — the one you never see — does not even belong to Sahalie, it belongs to a telemarketing company.  Have you ever tried to deal with trying to cancel charges with a telemarketer?   Most likely they'll "get you" for about $50 before you end up having to cancel your credit card.  
Please listen!  It is the opinion of TheDamienZone.com that SAHALIE is a shady business and in our opinion, you will get screwed if you order ANYTHING from this catalog.  If you don't listen to us, you will get what you deserve — a lot of junk emails — a $15.00 per month charge that won't go away — and crappy merchandise.
DO NOT BUY ANYTHING from this  "SAHALIE CATALOG"– even if it's not Christmas. 
You know that acne medicine they sell on TV?  The late night one with big stars acting as pitch men —and you get all the toners and stuff?  Well, it's kind of like that — and those people should be in jail for life.  Sahalie is a low-end version of that kind of gimmick rip-off – a whole lotta small print that you could never read even if you were a dust mite.
Okay – now that I saved you a lot of misery — if you can spare a few bucks, buy something from my website — a mug or something — even if it's the cheapest thing.   
Thanks — always at your service to reveal hoaxes and scams and the antics of stupid people
Damien LeGallienne