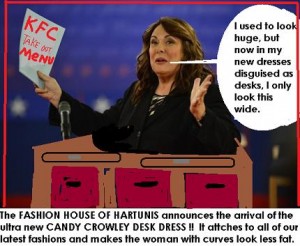 Candy Crowley is cashing in on her fame as the debate monitor at the second Presidential debate by opening up her own line of hair care products and clothes for the woman with curves and fat and then some.
"Candy looked kind of really really huge and her hair looked greasy and unkempt," said fashion designer and health guru Sheldon Hartunis of the Hartunis Human Body Remake Company in Laurence Harbor, New Jersey.
"She was far too wide and way too hefty to lead a Presidential debate  like that — she was much too huge. 
"Perhaps if the Presidential debate had been staged between the statue of Abraham Lincoln in the Lincoln Memorial, and the statue of Thomas Jefferson in the Jefferson Memorial, she might have looked a little smaller, but not much. 
"Her hair — that was sad too — it  looked like she forgot to rinse out that junky WEN crap she puts in it  — or maybe it was just butter from her hourly baked potato that she wiped  off her mouth with her hair — but we knew we had to step in to help Candy, if she was going to ever again step into the national spotlight."
How ironic that Candy should be named after the food she loves most — oh wait — then her name would be Pork Chops and Stove Top Stuffing Crowley, but she does like candy — so maybe it's kind of a nickname or something. 
Sheldon Hartunis continued:
"The first thing we did for Candy Crowley as far as fashion is concerned is we attached a big desk to the front of every garment we designed for her.  This is a very innovative fashion trend but we believe that a big desk helps to redefine fat and morph it into curves.  You can't say FAT these days but Candy Crowley is a blimp and the desk is the way to go.  We use lots of black and monochromatic colors to make her look like a regular boat instead of a cruise liner.  It doesn't work, but people believe it when we say something is "slimming."  We are going through a lot of wood and staples attaching desks to the front of dresses, bt it's a labor of love.
"And as far as Candy Crowley's hair goes, we put her in a giant pool — really giant — we almost had to use Lake Erie — and gently scrubbed her with Dawn dishwashing liquid like they do to ducks covered in crude oil.  She fought us for a few minutes, but we gave her some french fries and ketchup and she was fine."
So — look for the new line of Candy Crowley clothing/furniture at your local STAPLES or OFFICE DEPOT.  It'll make you feel — Presidential.