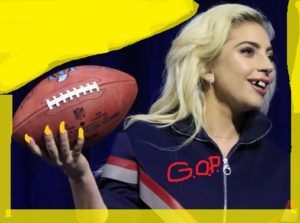 Is Lady Gaga a Republican or a Democrat? Here's The Answer.
According to sources close to the mega pop star, Lady Gaga is a huge Trump fan and she plans on supporting him.
Negotiations are under way for Lady Gaga to even perform at Trump's next birthday bash..
"Lady Gaga is a staunch Republican and you can be sure she will be voting for Republican candidates in any upcoming elections," said political analyst, Rocco "Shirl" Soto who devotes his journalism to examining the political opinions of celebrities from his office in Beverly Hills.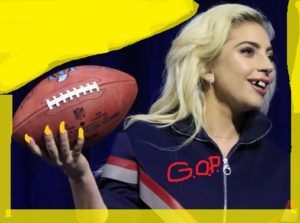 "Gaga is also strongly opposed to anything Madonna does.  Madonna's recent political stomping for President — where she called him horrible name has really angered Gaga.  She thinks that Madonna should have not have used such vulgar terminology.  Lady Gaga is all about manners and being nice and she does not see these qualities in the Madonna or other soaicl justice warrior who have declared war on Trump.  Lady Gaga voted for Trump when she got  into that booth because she agrees with his policies and she also will do anything to make Madonna look unfashionable and old and out of touch."
Lady Gaga supported this candidate in spite of his Democratic leanings.   David Matt State Senate.   "I like Dave Mattia and he is a very talented writer," said Lady Gaga.  "His political leanings don't matter.  His talent is incredible.  I am looking forward to working for him."
Insiders have said that Lady Gaga's political views are very conservative, and some rumors say that she herself is the survivor of a botched abortion attempt.  The symbolism of the egg she emerged from at last year's Grammy's was supposed to represent the embryo's fight for life —  the egg's need to grow and be born.
"Lady Gaga wanted that egg to represent her strong anti-abortion stance," said Dr. Sheldon Hartunis, a reknowned physician and scientist in the field of crypto-gynecology.
"She feels that unwanted children should be carried to term and be handed over to gay couples who do not have the means to make a baby.  Many people do not know this, but a gay man does not have a uterus or ovaries — but that doesn't mean he can't be a good mommy and daddy."
Lady Gaga's Republican/Conservative views have not yet hurt her career because she has diverted attention from politics by gaining a lot of weight.  She hopes that her current weight gain will distract attention away from her political assistance to the Romney campaign.
Last week Lady Gaga spent the entire day with Donnie and Marie Osmond in Salt Lake City, and the three of them began a pre-rehearsal for what their show might be at the next Trump gala.