"With Rachel Maddow you get a butchy looking hipster who acts more like a lesbian softball player than a reporter, but with Sue Simmons, you get something cable news never had — beauty, style, grace and the kind of experience that money cannot buy." [Damien LeGallienne, 1 November 2014]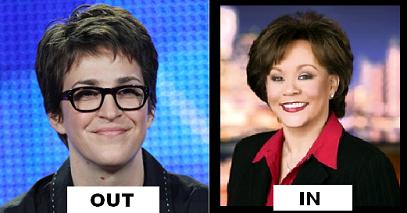 [Limoges, France 2:31] –   One on-air personality is a young Hipster lesbian with a manly haircut who got her job by winning a radio call in show, and the other is a beautiful veteran female journalist who has been an NBC anchor for over 30 years.  One is old and one is young, and both are about to get the axe from their jobs.  Guess which one isn't really losing her job.
Usually in the world of TV, it's always been, "out with the old and in with the new,"  but in this case it's the other way around.  The young hipster of course is side-mouth-talking Rachel Maddow, and the old anchor/journalist is the legendary Sue Simmons.  The Hipster lesbian is going and the old lady is coming.   Huh.. you say?
For a few weeks it has been rumoured that NBC was pulling the plug on news anchor Sue Simmons, who at 68, has been the anchor and co-anchor of the NBC local news in New York City.  Simmons is a NYC metro area fixture since the 1970s.  She's only flubbed a few times; once dropping the F bomb when she thought she was off the air, and another time when some viewers accused her of being a little tipsy during a broadcast.  The F bomb event is legendary, but the drunk rumors are baseless.
Viewers were angry because "Sue" has been part of their TV family for over 30 years.  Imagine that?  Thirty years with the same anchor — and despite her age, she is still as beautiful as ever.  As a matter of fact, she looks the same now as she did when she grabbed the anchor's job back in 1981.  It's freakish.
According to sources, the truth is that NBC-NY did not refuse to renew Simmons' contract.  Simmons pulled the plug on herself and is hopping over to MSNBC in June when Rachel Maddow, who doesn't even know it yet, gets her walking papers — something that will be made public within a few weeks.
"Maddow's rating are VERY low," said international news analyst and veteran news blogger Damien LeGallienne from his office in Limoges, France.
"In spite of MSNBC's  relentless left wing countering of Fox News' blatant right wing slant, nobody is watching the lefty.  Maddow's numbers are so bad that even left wingers prefer to get angry by watching Fox News.  This is a psychological anomaly that marketers and experts seem to overlook.  In other words, Maddow, in spite of the fact that about 46% of viewers lean left, does not get these people to tune in.  They watched her in the beginning, but she didn't hold them.
LeGallienne continued:
"TV is entertainment, even when it's news or commentary, and the numbers show that left wingers are switching to FOX not because they agree, but because, to put it in simple terms,  they prefer to throw things through their TV screens and scream than to listen to Maddow's nothingness.  (Sue) Simmons has star power to spare and Maddow doesn't seem to have it.  If you think about it, it all kind of come out in the wash.  Simmons is a real journalist and TV personality whereas Maddow is simply an odd duck who won a radio contest."
Noted Psychiatric Endocrinologist, Dr. Frangia Skell MD Phd,  went on to say that, "for some odd reason, many people with Maddow's point of view are not attracted enough to her style of reporting and prefer to watch Fox News simply for the need to be anry and outraged — the rush."
LeGallienne confirmed that Sue Simmmons will take over Maddow's place in mid June 2012 despite the fact she is closing in on 70 years of age.
According to LeGallienne, "MSNBC is going to change its entire image and put up Sue Simmons simply for what she is – a woman who reports the news with style and grace and beauty and talent.  Talent seems to be the word that most insiders agree upon.  Sue has plenty to spare and Maddow has none — if you believe in charts and graphs."
In a way you have to feel sorry for Rachel Maddow, but she's young and intelligent.  She can always find another job on another network.  Just look at how great Keith Olbermann is doing on Current TV.