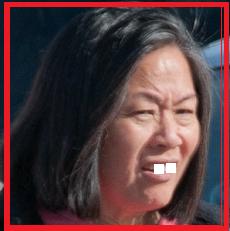 MELLY CLISTMAS, MISS ENG!  PSYCHO!
Some vicious kid-hating teacher ruined Christmas for a class full of second-graders when she told them that there is no such thing as Santa Claus during a lesson about the North Pole at their Rockland County, N.Y., school.
The scumbag teacher even told the youngsters, mostly 7 and 8-year-olds, that the presents under their trees were put out by their parents, and not Santa. 
"She did this because she is a sick person." said Dr. Helene Gamuccio MD, a psychiatrist, from the New England Society of Holiday Traditions and Americana. 
"Only a sick mind would do something like this.  This teacher is mentally unstable and should not be around children.  This is a form of malcious verbal abuse that only gets worse when it is not powerfully discouraged — and the teacher should be taken away from children."
Teacher Leatrice Eng's  comments caused a huge outrage at the quiet George W. Miller Elementary School in Nanuet, where angry parents would like to see the teacher roasted like a chestnut over an open fire.   She now says she is sorry — she's sorry because she is going to lose her job — she most likely enjoyed hurting the children's feelings, but now it's going to hurt her bank account.  Melly Clistmas, Miss Eng!
It's sad; she was wrong," said Irene Hoffman, a mother of three students at George W. Miller Elementary School in Nanuet — and a typical phony who obviously doesn't give a shit about Christmas.
"This whole thing is being blown out of proportion. I think we should focus on our children's education, and just move on."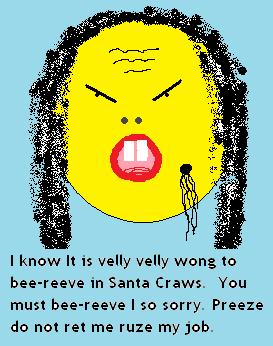 But how do the kids move on when some pie faced nasty scumb bag teacher ruined their Christmas? 
"If that happened to my daughter in her second-grade class … I'd be very upset," according to 48-year-old Sean Flanagan, whose child was in second grade at the school last year. "If her brothers told her [there was no Santa], they would be punished. So I can't imagine what should happen to the teacher."
A nanny picking up a child at the school said that anyone who tells kids that Santa does not exist should get coal in their stocking.
"It's outrageous that a teacher would strip a child of their innocence and try and demystify something," 59-year-old Margaret Fernandez said.
A grandmother of a kindergartener added, "I think this is awful. If it happened to my granddaughter, I'd tell her [that] her teacher made a mistake, and there is a Santa."
The unidentified teacher reportedly made her anti-Santa comments Tuesday during a geography lesson, when students told her that they knew where the North Pole was because that is where Santa lives.
School officials would not discuss the Christmas incident or say if the teacher would face any discipline.  They will probably fire her because she is a piece of scum — a sick demented insane person — she has got to go and she should be followed to make sure she never works around children again.
District Superintendent Mark McNeill released a brief statement, saying only, "This matter is being addressed internally."