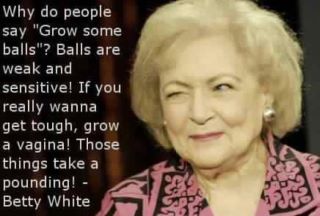 UPDATE FROM BETTY HERSELF:  My Dear Damien, Thank you so much for trying to get rid of this silly prank on my behalf.  I can't say that I am angry at my many wonderful fans for distributing the story, but I am disturbed – because of its content – that it has become such a sensation and attributed to me.  Of course I enjoy a blue joke as much as the next person, but this one goes just a bit beyond where I would step professionally. Thank you. You're a sweetie. Hugs and Kisses, Betty. ( 3:50 PDT)
There is a new Facebook Hoax going around and it's one where there is a picture of Betty White and a quote attributed to her.
"Why do some people say, 'Grow some balls?'  Balls are weak and sensitive.  If you really wanna get tough, grow a vagina.   Those things take a pounding." Betty White
Betty White never said this but of course the stupid morons on Facebook are spreading it around — so happy that Betty White said something all sassy and dirty.
BETTY WHITE NEVER SAID THIS!   Geez, I even had to fix the punctuation on the stupid quote.   The truth is that the joke was originally written by comic #Sheng Wang on Mixtape Comedy Show.  Wang borrowed it from something that was supposedly said by another famous comic,  and now somebody affixed Betty's name to it with the stupid excuse that it SOUNDED like something she would say.  The same thing has been done to #George Carlin and #Don Rickles and #Bill Cosby.  It doesn't matter how cute it "sounds" coming from Betty White, because she didn't say it. 
We got first hand information from this Hollywood writer that she indeed did not say it.
"I think that people on Facebook who pass this stuff around are mindless..  It takes just a few seconds to verify.  I have had morons tell me "so what, she didn't  say it — it's still funny."  You don't put quotes around words and then attribute those words to a specific person.  It's not only illegal, it's stupid."  Source —> http://www.imdb.com/name/nm3834680/?ref_=fn_al_nm_1
Watch the video link on comment #5 below — and then tell me who said what?  Also note below the letter sent to me by Betty White herself. 
UPDATE! UPDATE!:   My Dear Damien, Thank you so much for trying to get rid of this silly prank on my behalf. I can't say that I am angry at my many wonderful fans for distributing the story, but I am disturbed – because of its content – that it has become such a sensation and attributed to me. Of course I enjoy a blue joke as much as the next person, but this one goes just a bit beyond where I would step professionally. Thank you. You're a sweetie. Hugs and Kisses, Betty. ( 3:50 PDT)