Satillite debris is hurling towards the New Jersey coast, and some experts fear that the bus-sized chunk of space debris will hit the beach in Seaside Heights where MTV films the popular show, "Jersey Shore."  The towns are safe but the beach is in possible danger.  Even though the beaches are empty now that summer is over, there is a big movie being filmed on the beach and that's where things get worrisome.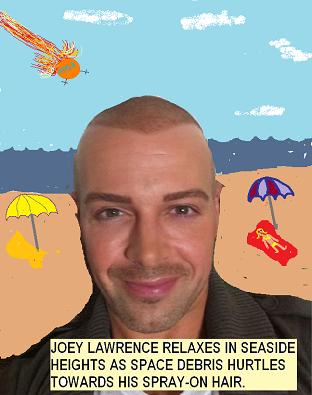 The odds of anyone getting hurt on the set are slim, but child actor turned big time movie star, Joey Lawrence, is a bit upset because the set of his movie with Pia Toscano had to be shut down for safety reasons.
"The director wants to be sure that nobody affiliated with the movie gets hurt in case the space debris should fall on the set of "Seaside Heights Zombie," said a source close to the filming.
"Joey Lawrence is insured on this picture for over $50 million and the insurance company wants him out of harm's way.   As of this morning,  the entire crew and cast for the film, has been moved to an old World War 2 bunker in Sandy Hook, NJ — a state beach about 60 miles north of Seaside Heights."
According to our sources at NASA, the guys who are tracking the falling debris did a very intricate calculation and the path of the fall would put the satillite smack dab in the middle of the set of Seaside Heights Zombies. 
"We take the lives of all Americans seriously," said NASA Trajectologist Dr. Dean Switchy PhD.  "Even if they are Guidos or Guidettes or has-been actors with spray-on hair, we could not sleep at night if anyone was killed or injured by falling space junk.  We take this very seriously."
Mildred Sclafani, a Bigfoot expert, and the woman who is funding the entire movie project has agreed to pay the state of New Jersey $500,000 for the use of the bunker which has not been used since 1944.  in the event the NASA satelitte debris does hit Seaside Heights, the movie can be finished in the Sandy Hook area and the nude gay guys who lurk in the dunes and bushes there can get parts as zombie extras.
"That's going to put me a little over-budget for the film, but I would not want anything to hurt a single transplanted hair on Joey's head," said Sclafani as she drove towards the bunker on NJ Highway 36 where she stopped for a few minutes to listen to some young inbred musicans from Keansburg jam at Killin' Time Studios.