"I am not buying his new record because what he said was a disgrace.  I will never again buy anything that Tony Bennett does.  He'll be dead soon anyway.  What is he..,like ninety or something?"  [Dean Traherne, 72, Palma Vista, Florida.]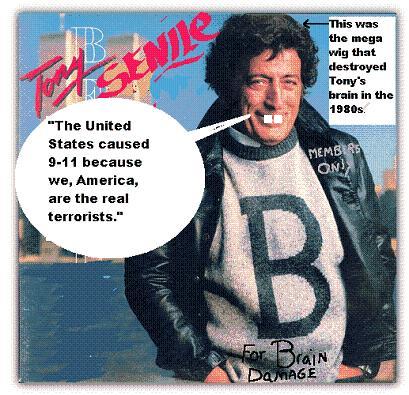 "Tony Bennett may have left his heart in San Francisco, but it now he's left part of his brain in the garbage.  The poor old guy is senile and the glue from his many wigs has dug deep into his failing brain.  We are normally very tolerant of the elderly  but in Tony Bennett's case, he is a complete walking nothing and he has outlived his usefulness."  [Dr. Mildred Scalfani, Chief of Neurology, Haitian Hospital For The Elderly, Port Au Prince, Haiti]
Those words may sound a little cruel coming from a physician, but Dr, Scalfani has treated a lot of celebrity clientel, and in all her years she says that she has never run up against an ego as big as Tony Bennett's — and she also thinks he's stupid but his stupidity has gotten worse over the years because he is losing his mental faculties.
This all stems from a recent appearance on the Howard Stern show where the 85-year-old crooner was trying to plug a new CD, not knowing that Stern and company were really mocking him because he's far too old to be out in public.  He is treated like a pet on Stern's show but he is the last person who will ever know that — if, for that matter,  he ever learns it.
Seems that Bennett accused the USA of being terrorists just like the 9-11 suicide pilots.  Yes, Tony Bennett implied that Americans are terrorists — and that translates to any rational person that Tony Bennett considers the US military to be an army of terrorists.   Tell your friends about this because as much as I goof around on here, this is 100% true. 
"But who are the terrorists," asked Bennett.  "Are we the terrorists or are they the terrorists? Two wrongs don't make a right," Bennett said talking about the aftermath of the 2001 attacks on the World Trade Center.
The singer, who has sold more than 50 million records, disagreed with Stern's assertion that the Twin Towers attacks led to US military action in Iraq and Afghanistan.  This was obviously a horrible thing to say, that Tony's record company refused to take calls from TheDamienZone. 
"They flew the plane in, but we caused it," Bennett said. "Because we were bombing them and they told us to stop."
Bennett even went so far as to say that President George W. Bush told him personally that he had made a mistake in Iraq — THAT IS A FUCKING LIE!  Why would Bush tell this wig with legs and a microphone something like that when in fact Bush himself still does not believe that he made a mistake in Iraq?  
Tony Bennett has recently tried to tie himself to Amy Winehouse because he recorded a duet with her prior to her death, and now he is courting the young left wing so as to try to keep himself relevant on the musical scene, but the truth is that he is an old senile man who shits his pants.  He needs to be kept away from a microphone. 
Tony — do the world a favor and fucking die already.  You don't sing — you talk and mumble — you are not a legend — youare just old and a few weeks after you're dead you will be forgotten — AND YOU ARE AN ASSHOLE!!!!!!!

Notice: Undefined index: src in /home/damien/public_html/wp-content/themes/u-design/scripts/post-thumbnail.php on line 76