"John Goodman and Chaz Bono have virtually the same DNA and a penis transplant from John to Chaz will be a sure-fire success.  The danger of Chaz's body rejecting John's penis is virtually zero, and that's kind of ironic because women have been rejecting John Goodman's penis for most of his life."  [ Dean Traherne MD, North Dakota University of Medicine Division of Transexual Surgery]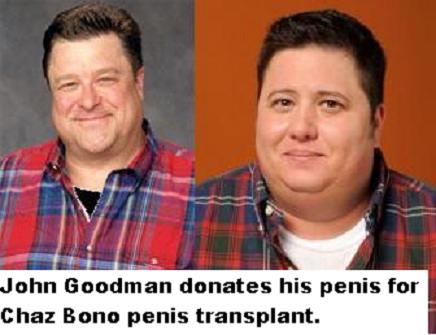 Celebrities always say that Hollywood is a small town, and in the case of Mr. Chaz Bono, that little saying couldn't be truer. 
While people around the world wait years for suitable transplant donors, Chaz needed only watch a rerun of a the sitcom "Roseanne" to know that he had found his donor — the man who would supply Chaz with the penis he will need for his penis transplant — the final operation that will make Chaz a fully functional man.   The best part is that Chaz and John both live in Hollywood.  Little did Chaz know that the penis he/she has always wanted was just a mile away.
The man who will donate his penis is none other than veteran actor John Goodman who played Roseanne Barr's husband for many years in Prime Time TV.  Goodman is an accomplished TV actor — made even more famous by his big screen performances in movies like the Coen Brothers classic "The Big Lebowski" and countless other major motion pictures.
According to sources close to both celebrities, John got a call from Chaz Bono a few weeks ago and she asked him about possibly donating his own penis for the transplant and oddly enough the somewhat obese actor agreed.
"John agreed to donate his penis to Chaz provided that the two were genetically similar," said Dr. Dean Traherne, the surgeon who will perform the operation at a private clinic in North Dakota.
"John looked at a picture of himself and then he looked at a picture of Chaz and that was all the DNA testing he needed.  He said yes on the spot and said that he had no use for his penis anyway and that he hadn't even been able to see it for nearly 40 years.  Actual DNA testing, however, showed that John's penis and scrotum were identical genetic matches.  The odds of that are in the trillions to one."
Doctors have asked John Goodman to take good care of his penis and scrotum in the upcoming weeks so that there is less danger of infection when the transplant is made.
"Chaz Bono needs this penis and we want it to be in tip-top shape." continued Dr. Traherne. 
"Rumor has it that John's penis is a pretty good size but because he is so fat, his penis has always appeared small.  It's actually a nice penis and fits neatly into Chaz's anatomy. The surgery should be a breeze and the aftercare should be minimal — although we do suggest that Chaz use plenty of Jock Itch spray and anti-chafing powder because  — well — look at her—I mean, him."
But what about John Goodman?  What will he do without his penis.  Dr. Traherne explained…
"John Goodman is a great guy to give up his penis, and to show her gratitude, Chaz is paying for him to have a Catheter 300GX penis and urine system surgically installed so he can pee standing.   It's actually going to be easier for him with the new device than it was with his actual penis because he doesn't have to reach around looking for it and then hope he hits the toilet.  This device automatically finds the toilet and hits the water square in the middle with minimal splashing."