"It's not like they're all broke.  Some of these people got a lot of money when their loved ones perished on 9-11, but some of these "mourners" showed up dressed like they were going to a three-legged potato sack race." [ Sheldon Hartunis MD.]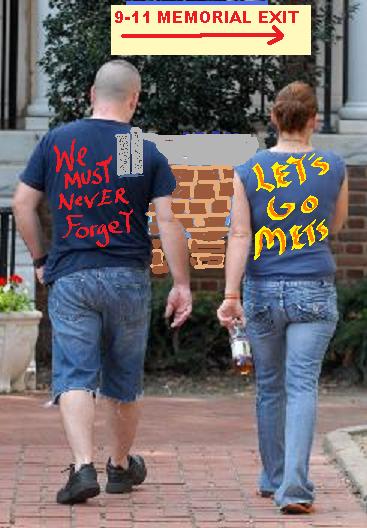 Yes, they were there to pay their respects to their lost loved ones, but what was the excuse for so many people who attended the 9-11 ceremonies at the new Ground Zero Memorial coming dressed like slobs?   Today was not a day to wear a T shirt and knee-high Adidas shorts and sneakers.
Here are my other pics of 9-11 sloppy dressers.  Direct from 9-11 Memorial photos.
Don't accuse me of nit-picking because these people were INVITED, and they were in the presence of a sitting President, a former President and two First Ladies.  The Mayor was there and several Governors — but that aside — the ghosts of their loved ones were there.  Not real ghosts, but the ghosts that the 9-11 families carry with them wherever they go.  Why on earth would you dress like a slob?
Americans are starting to make me sick.  It's easy to mock people from poor countries, but people in Haiti, people who have NOTHING, dress better when they attend a memorial service for a loved one lost in the earthquake.  There is no excuse for a fat American slob to show up with his kids like they are all going out to the park to play wiffle ball.   NO EXCUSE.
There should be a dress code at this 9-11 Memorial, and if I were in charge, there would be one.
Okay, so you're fat and you feel comfortable in sweat pants, and a shirt and tie irritate your neck.  Think about how uncomfortable your brother or sister or aunt or uncle or father or brother or wife felt as they burned to death or watched the island of Manhattan whizzing beneath them at 500mph knowing that they had less than a few seconds to live.  Would it hurt any of you to get a nice suit and dress your kids neatly so as to convey at least a hint of respect and dignity?
I am so sick of sloppily dressed Americans.  They pull the same crap when they travel abroad — they can't follow a dress code even here in their own country how do you expect them to convey a sense of taste and decorum in another country?  They always try to get around it and eventually the whole thing turns shabby.  I say we should bring back the days when ladies wore hats and a dress – and men wore a shirt and tie when they went out to anything social.
Maybe I sound like a crank, but when you go to a Memorial Service of any kind, wear a suit or something appropriate!  I used to have a cousin who showed up at wakes and funerals in t-shirts and sweat pants.  Family members starting requesting on their death beds that he not be allowed at their funerals — I'm totally serious.
And NO — it's not the thought of showing up that counts — the thought is showing up and showing respect and taking the time to make yourself look presentable.