She used to be a natural beauty — now she looks like every other Reality Show idiot who has had too much plastic surgery.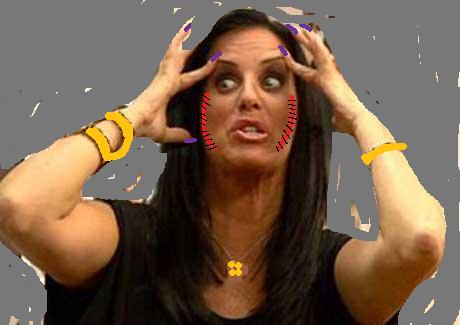 She used to be our favorite Reality TV star — and in many ways she still is, but tonight's Millionaire Matchmaker on Bravo brought us a new Patti Stanger — a plastic surgery victim who now sorta looks like  Evil- Kathy-Griffin with dark hair. 
I know you lost weight and all that, Patti, but you also had a facelift — I can see it — and your eyes are done too. 
You were so naturally pretty and now — now you look like everybody else.   Maybe you had stuff done before, but whatever you had done in the past kind of worked for you, but on tonight's show you had the stretched Bev Hills look — that is soooooooo not good.
Folks, why did Patti Stanger go and get a facelift for her new season?  She was so cute and cuddly the way she was, but we think that she thinks that she can't get a man because she's 50.  She is going against everything she tells the people who come on her show — LOVE YOURSELF!
Patti — please — I hope this stretch face thing that you have now just fades away over time and you don't start looking like a freak because it's amazing how just one over-pulled face-lift made you automatically have that Beverly Hills shit-faced look alike face.  You actually look like Kathy Griffin around the eyes — YOU DID NOT NEED THAT!   Whoever did your face had to be the guy who did Kathy Griffin.   It's a tragedy but thankfully you still look okay — for now. 
I was watching with a friend and my friend was aghast. 
Also, I only watch Millionaire Matchmaker because I like you — basically the show is okay but the guys you try to fix up are always ugly and stupid and uninteresting bores.  The only thing they have is money.  The girls are always day-job bimbos who makeup a "I'm really a loser" resume where they say, ""I'm a songwriter and a poet and a Feng Shui designer."  BLECH!
Patti — you are one more surgery away from not even looking like yourself — PLEASE STOP~!  You are the only person on reality TV who I actually like — I care about you — and this is my way of showing it — sorry!
Also, your worker – the guy who is so uninteresting that after 3 years I still don't know his name —  got rid of his childish mohawk — and guess what — he is still uninteresting and unlikeable and not needed.  The girl with the violet roll bangs over her eyes is a freak and should be off the show — how did she get on it?
Okay — here is my edict.  Get rid of the uninteresting mohawk guy who works for you, get rid of the violet bangs cow and  DO NOT GET ANY MORE PLASTIC SURGERY —  but I think it might be too late because once you start to look like Kathy Griffin around the eyes, it means that you have turned the corner.