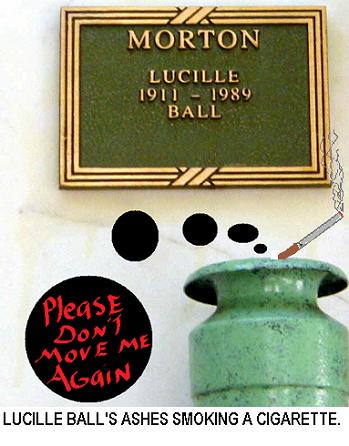 Lucille Ball is hacking away on her own smoke as she lies in her urn remembering her days in Hollywood and her 100th birthday.  She is smoking too much lately because her daughter Lucie Arnaz moved her urn to some shitty town in upstate New York. 
"That's the advantage to being cremated," said Benjamin Switchy, a mortician in Van Nuys.  "You can smoke after you're dead.  In a casket it gets too stuffy."
Smoke or no smoke, Lucie Arnaz, is having the happiest day of her life because today, Aug, 6, is the 100th birthday of her mother, the red-haired queen of television Lucille Ball.  
Since Lucy's death, daughter Arnaz has made a living moving her mother's remains around as though her ashes are on some kind of road show. 
Little Lucie has even gone so far as to move her mother's remains to a new home in New York where she is enshrined at the semi-shitty and boring Lucille Ball museum where unmarried middle-aged men go with their elderly mothers and widowed aunts.
"Lucie Arnaz should try to live off her own talent and not have to keep trying to cash in on Lucy." said a die-hard Lucy fan, Vinnie Crestini, 57, of West Milford, NJ.
"Let's face it, Lucie Arnaz is no Lucille Ball.  She better not move Lucy ever again (her father was Desi Arnaz) – she is a real jerk.  I don't know why  in Lucie Arnaz's traveling dinner theater show I saw with my Aunt Nana in Branson, Missouri,  Lucie Arnaz she calls herself "The Legendary Lucie Arnaz" — legendary?  She's not legendary.  Only Lucy and Desi and Vivien Vance are legendary.  Lucy didn't take no shit from nobody."
Lucie Arnaz is rumoured to be trying to bring her mother back to life and make even more money. 
"Miss Arnaz is so happy that her mother turned one hundred today and she's not exactly going to let the fact that the legendary comedienne is dead," said geneticist and pediatrician and mortician Dr. Benjamin Switchy.
"There are plans to recreate Lucy by cloning the cells from a blood sample taken when Lucy was a patient at Cedars Sinai where she yelled out those immortal words to nurses when her husband Gary Morton came to visit, 'Get that motherfucker the hell out of my room.'"
Doctors are feverishly working on cloning Lucy and they are already a year late.  According to sources, they had already planned on having a newborn baby Lucy by today, but the sheep that was carrying the child died when Lucie Arnaz accidentally used it to make mutton stew.
"She did not know that it was her mother's surrogate uterus sheep," said Dr. Switchy. 
"We have hundreds of sheep here who are carrying the clones of movie stars.  Miss Arnaz had originally planned on eating the  ewe (fenale sheep) who was carrying the clone of Vivien Vance.   While Vance may be known worldwide as Lucy's number one sidekick, Lucie Arnaz is hell bent on making sure that Vance never again sees the light of day.  Lucie wants to be her mother's sidekick and no matter how many times we have tried to clone Miss Vance, Lucie Arnaz has eaten her pregnant mother sheep."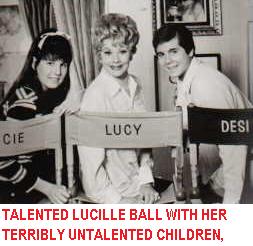 Lucy used to have her ashes interred at Hollywood Forever Cemetery in Los Angeles, but now the Lucy dust is up at the Lucille Ball museum where dozens of people go every year to see dresses and other dumb things.   Had her ashes been left in Hollywood in that columbarium with all the other famous stars, she would have gotten the recognition she deserves in the place where she deserves to rest for all eternity.