OMG!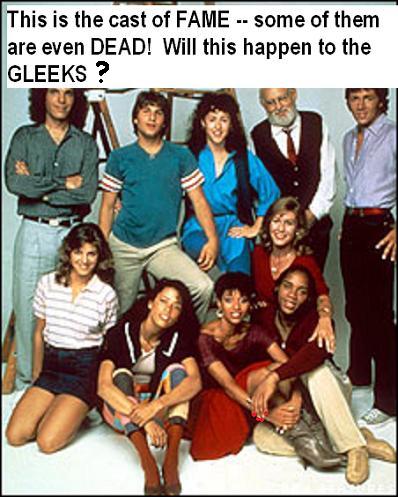 The smash TV mega-hit show GLEE will be cancelled for the 2012 season according to sources close to the show.  Insiders say that the last show will be aired Christmas week of 2011 and that plans are underway to film that episode on October 23rd, 2011.
"The cast wants too much money to go into 2012," said Sheldon Hartunis, a source who, along with his elderly mother Delia, are stunt coordinators for various TV shows.
"Usually a network will sign a cast for the entire season but this time the producers dropped the ball.  The show is doing well but not well enough to pay the multi-million dollar salaries that some of the stars were demanding.
"There was talk of getting a whole new cast for the January 2012 new year, and there were even pre-auditions held in North Hollywood and New York, but the producers are worried that a new cast might not catch on and they want to go out on top."
All the while this was going on, G.M.L.M.B. – Gay Men Who Live In Their Mother's Basements – an organization that is trying to stop GLEE from shutting down, has organized a protest march in Manhattan's Central Park on Sunday August 28. 
"We strongly urge our fellow GLEEKS to come down and show your support for the show and to beg the closeted gay actors and untalented actresses on the show to stick with the show for a few more years,"  said G.M.L.M.B. President and founder Lance Hardfried, 57, of Manhattan.
"Do they forget what happened to the cast of FAME when that show ended," added Hardfriend.
"None of those people were ever heard from again and the black dancer with the cornrows, Gene Anthony Ray, ended up dead with no money and AIDS.  If the GLEE actors want to be all high and mighty, I offer up these names.  Carlo Imperato, Billy Hufsy, Valerie Landsburg-Mcvay, Jesse Borego, Lee Curreri, Cynthia Gibb, Eric Gimpel,  P.R. Paul — I could go on and on.  Those are all the actors from FAME — where are they now?  Nowhere!  Do you want that to happen to you?" <——- Hardfried was really angry.
There are a lot of people out there who don't want Glee to end but as it stands now, insiders agree that the Christmas episode will be the last and unless the producers come up with a whole new handful of talented singers and dancers and actors, GLEE as we know it, will be gone forever.
"I don't know what I will do," said Kenneth Budd, 52, of Harrison, New Jersey.  "My mom and I look forward to that show every week and we do grocery shopping the day before so we have plenty of popcorn.  I lost my best friend and roommate, Lyle O'Malley last year and moved back in with mom, and while I miss Lyle, I love watching Glee with my mom more than anything."
"GLEE is the best show that there ever was and I can't imagine not having sassy lines to quote anymore with the homely girls at work," said Vincent Cuglierriero, 49, of Brooklyn, New York.  "I watch it with my sister and my mom every week.  My sister is confined to a bed because of her weight and GLEE was the thing we looked forward to most.  It's going to be a sad day."
UPDATE UPDATE!!!!!  GLEE WILL STAY ON!!  PASS THIS AROUND ON FACEBOOK AND TWITTER!!!  http://thedamienzone.com/2011/10/06/update-glee-will-not-be-cancelled-in-2012-joey-lawrence-added-to-cast/
Maybe you kids out there ought to join the protest to keep GLEE on the air