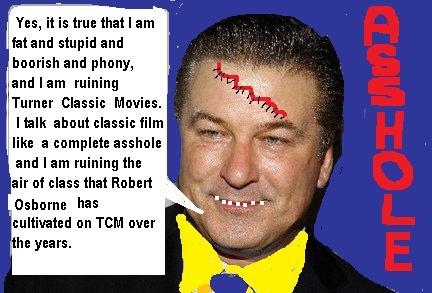 ROBERT OSBORNE, THE HOST OF TURNER CLASSIC MOVIES, IS TEMPORARILY OFF FROM HIS DUTIES DUE TO ILLNESS.  I WISH MR. OSBORNE A SPEEDY RECOVERY AND I HOPE THAT HE RETURNS IN TIME TO KEEP THAT MORON, ALEC BALDWIN, FROM TRYING TO TAKE OVER THE HOSTING SPOT.
Alec Baldwin, the world's meanest answering-machine-father and noted political moron, is on a mission to ruin the class and dignity that has been put forth on Turner Classic Movies for nearly two decades by host Robert Osborne.
For some reason Baldwin has ensconced himself as a semi-regular co-host when TCH broadcasts what it calls. "The Essentials" — movies which TCM considers to be "must see films."  It's a great segment and a great concept, but Alec Baldwin's appearances are atrocious and dumb and you just want to carry poor Robert Osborne off to a safe place where you can hide this priceless treasure of a man from looters and marauders — which is what I consider Alec Baldwin to be.
Baldwin is an idiot and a jerk and an imposter. He brings that new Hollywood corny, fake, know-nothing-but-sound-like-I know-everything sickening brand of shit to a show that for years has been the hallmark of the ultra-dignified and uniquely qualified Robert Osborne.
Just to give you an example of how stupid and annoying and retarded Alec Baldwin can be, on a recent screening of The Essentials:
Osborne and Baldwin talked after the Charlie Chaplin classic City Lights.  Osborne of course knows what he is talking about and doesn't ever try to sound keen or glib or know-it-all, but Alec Baldwin puts on this uber phony and intense face and comes up with the dumbest thing ever said on TCM.
At one point, this complete blockhead tries to compare Ben Stiller to Charlie Chaplin — are you laughing?  I hope not because it wasn't supposed to befunny — he meant it.  Even Robert Osborne, probably the classiest guy on TV, squirmed a little and had to voice his diplomatic disagreement.
Now it seems that Mr. Osborne, who is nearing 8o, is sick and will be off for a few months — unless he is sicker than they are letting on.  Last night he was replaced by Robert Wagner (great choice and another classsy gentleman despite the fact that he might be a possible murderer) — and in the coming weeks Osborne will be replaced by a host of other Hollywood luminaries — real luminaries — not assholes like Alec Baldwin — we hope so anyway.
Baldwin, for lack of a better word, is unbearably stupid and pompous and he simply does not belong on a show like this.  He should stick to his schticky network junk that he seems destined to inhabit until his huge gead explodes.  An ego like his, however, can only read lines written by others for so long.  He wants to be heard in his own fake voice and be seen as a great thinker — but he's not a great thinker — he is a fucking idiot!
Alec Baldwin does not belong on a show like TCM — he does not have the style or class or persona to pull it off.  He is too divisive and people who like classic film are not going to like him.  I know that I can't stand the sight of him and I like to think that I am a very reliable barometer in that area of likability.
In closing I would like to again emphasize how much I detest the fact that Alec Baldwin has somehow got himself involved with this show.  He does not belong.  He is out of his league and out of his class (he has none, by the way).  Please, if anybody at TCM is listening, get rid of Baldwin.  He is ruining TCM.