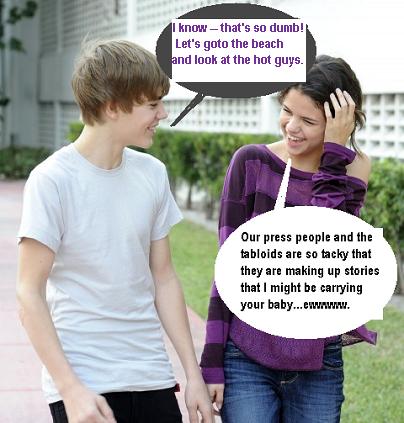 BELOW YOU WILL FIND A STORY ABOUT SELENA GOMEZ AND JUSTIN BIEBER THAT I FOUND ON THE WEB. I THINK IT'S FROM STAR MAGAZINE OR PEOPLE OR ONE OF THOSE OTHER FAN MAGS MADE FOR  DUMB WOMEN AND UNMARRIED MIDDLE-AGED MEN WHO STILL GO GROCERY SHOPPING WITH THEIR ELDERLY MOMS —  IT IS 100% FAKE AND MADE UP BY PUBLICITY PEOPLE.  WHAT IS REAL, HOWEVER, ARE MY COMMENTS WHICH, LIKE THIS, ARE IN BOLD LETTERS. 
HOSPITAL VISIT HAS PEOPLE WONDERING IF SELENA IS CARRYING JUSTIN'S BABY.
After Selena (FUCKING GOMEZ) checked into hospital with nausea and dizziness following 'The Tonight Show' last month, the web went wild with a whirlwind of rumors that she might be pregnant with Justin Beiber's baby. While we think that is probably (hopefully) not the case, the Biebs has been schooled on safe sex repeatedly to ensure accidents don't happen. < — None of this story is true.  The press  and the web did not "go wild" but both kids' press agents went wild. 
Does Justin Bieber look like he can produce sperm, and if he can, does he look like he would use it on a girl?  BE SERIOUS!
Also, "SELENA" is DEAD!!!  The internet keeps referring to Selena Gomez as "SELENA" so that they get double the hits on search engines — one for the dead Tejano singer and then a few more while the web surfer tries to find Selena Gomez.  This is starting to make me sick! 
FOR THE RECORD!  "SELENA" IS DEAD!  SELENA GOMEZ, HOWEVER,  IS ANOTHER PERSON SEEKING FAME WHO IS FAKE-DATING JUTIN BIEBER!  IT'S ALL A LIE AND THE WHOLE INTERNET THING IS A SCAM. 
"Justin's been told straight up that if he's having sex, he had better use protection," an insider reports to Star Magaine. "Everyone knows their intentions are good, but they also know how easy it is to get worked up when you're young and in love. It would only take a few moments of weakness to cause what could be a lifetime of regret." < — THIS IS A COMPLETE LIE MADE UP BY HIS PRESS PEOPLE.  THIS JUSTIN MUSH FACE  IS ABOUT AS INTERESTED IN SELENA GOMEZ AS HE IS IN BETTY WHITE — GET A GRIP — JUST LOOK AT THE KID FOR CHRISSAKES — LOOK AT HIM!!!!!!!
It's true that Selena (GOMEZ — HER FUCKING NAME IS SELENA GOMEZ.  "SELENA" IS A TOTALLY DIFFERENT PERSON AND SHE IS D-E-A-D — SO STOP JUST SAYING, "SELENA!"  Bieber AND SELENA GOMEZ have been spotted  hand-in-hand all around the country together — and even wrapped up in one another in Hawaii — but we bet their mamas have taught them how to handle sticky situations.  <—–OKAY, THE STICKY SITUATION INNUENDO WAS DISGUSTING AND ANY TIME THAT THESE TWO SPEND TOGETHER IS INTENTIONALLY CAUGHT ON CAMERA BY THEIR PRESS PEOPLE.  MAYBE HE LIKES HER CLOTHES AND MAKEUP BUT HE IS NOT SCREWING HER –NEVER WILL — HIS CAREER IS EBBING AND HER CAREER IS RISING.  THEY WILL BREAK UP WHEN THE BELL CURVE OF HER MARKETING PEOPLE SAY SO — THEN HE'LL JUST MOVE ON TO THE NEXT FAKE GIRLFRIEND JUST LIKE LANCE BASS DID — REMEMBER?
Selena tried to nip speculation in the bud from the get-go by telling reporters that her hospital stay was a result of exhaustion. Still, Beliebers and Gome-ites can't help but wonder what happens between the couple behind closed doors. <—NOTHING!  BIEBER GOES HIS WAY AND SHE GOES HERS  — AND WHEN THEY DO TALK THEY GIGGLE OVER THE GUYS HE TELLS HER THAT HE THINKS ARE HOT — OMG THIS IS SO FUCKING OBVIOUS!
Just before Selena entered the hospital on June 9, she and her beau were (INTENTIONALLY) seen in Canada, visiting Justin's family. Since then, they've been seen and heard in public sharing some very audible (FAKE)  'Ilove you's,' which has some fans worried that they might be moving a bit too fast. <—WORRY NOT — DON'T BE STUPID.  THIS IS ALL FAKE — LIKE ROCK HUDSON AND JOHN TRAVOLTA AND COUNTLESS OTHERS. 
KEEP IN MIND THAT I AM NOT MOCKING JUSTIN BIEBER.  I AM DISGUSTED BY HIS PRESS PEOPLE AND HIS REPRESENTATION.  HE IS BEING FORCED TO GROW UP ALL FUCKED UP IN THE HEAD JUST SO A FEW HOLLYWOOD PEOPLE CAN GET RICH.   10 YEARS FROM NOW WHEN HE'S ALL WASHED UP AND LIVING ON SKID ROW, HE'LL END UP ON CELEBRITY REHAB — FUCKING HOLLYWOOD PARASITES!!!!!   PARASITES!!!!!!!!!!!!!!!
We think that at 17 and nearly 19-years-old, the young idols are old enough to make their own decisions. Still, that doesn't make the idea of a mini-Bieber any more comforting. Stay safe out there, kids! <—-THIS IS THE MOST SICKENING STORY EVER!