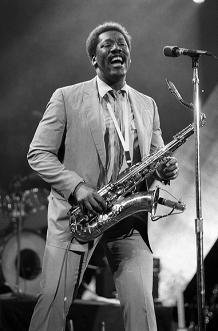 A source close to Clarence Clemons has confirmed that he has suffered a stroke. The source, who offered the information on the condition of not being identified, did not know how serious the stroke was, but other sources say that he is gravely ill that all emembers should hurry to Florida to see Clemons — he migh be near death.
Veteran entertainment journalist Roger Friedman wrote that the beloved saxophonist, known as the Big Man, had suffered a stroke at his Florida home, and is "seriously ill."
UPDATE!
Mr. Clemons, 69, had undergone two brain surgeries at a hospital near his home in Florida after the stroke, which was described as "massive," but is "responsive and in stable condition."
Quoting an unnamed friend of Mr. Clemons, the site said that the saxophonist's situation "did not look good at all" on Sunday, but that Mr. Clemons, known as "the Big Man," had rallied and his vital signs were improving. "He was paralyzed on his left side, but now he's squeezing with his left hand," the account said. "The next five days will still be critical. But he's a fighter."
Clemons is an original member of Bruce Springsteen's E Street Band, and the oldest member of the band, at 69. He is someone whose importance to the New Jersey music scene can't be overstated, and who is utterly irreplaceable.
Clemons had been plagued with health problems.  he had knee and spinal surgery in the past few years buyt he was confident that he would get back together with the band in 2012.  He performed as recently as last month with Lady Gaga on American Idol and seemed to be doing well.