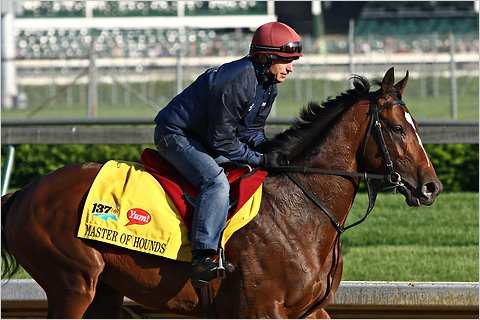 MASTER OF HOUNDS is a good choice for anyone who makes a once-a-year wager on the Kentucky Derby. The globe-trotting Irishman with the purely American pedigree arrived in Louisville from Shannon, County Clare Ireland on Tuesday morning coming off a very strong second in Dubai at The World Cup in late March.
For people who factor in 'the dosage" — as any smart handicapper should — Master of Hounds  at 1.07 has perhaps the best Derby "dosage" in decades — the ideal being to come as close to 1.0 as possible where most horses come in at 2.2 or thereabouts.  He's on the morning line at   15-1 but he has as great trainer and one of the hottest jockeys in the country.
Post 11 is a little bit of a jinx and if Master of Hounds gets into traffic,  watch for the wiry colt Animal Kingdom to take it all at a good price.