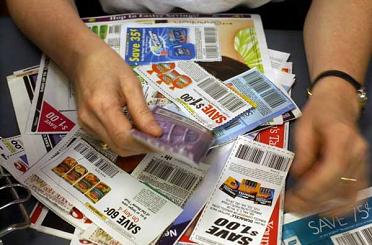 Psychiatrists in the USA are seeing an increase in people who call themselves, "Extreme Couponers."    These are people who comb through every newspaper and store circular and online coupon site for the best deals on supermarket items.   A recent show on TLC showcases these individuals who had previously lived in a kind of secret society — but it's a society of one and that "one" could very well be suffering from serious mental illness.
Pictures of extreme couponers here —–> Direct photo
"Many extreme couponers say that they do this out of financial need and in some cases this may be true, but more often we see people — mostly women — who are readily diagnosed as food hoarders and angry, obsessed, anti-social gatherers," said psychiatrist Dr. Sheldon Hartunis.
"These people spend hours and hours calculating how to get thousands of dollars of groceries for free, and while many of us would like to get free groceries, we lack the time or the obsessive, and perhaps subconciously vindictive,  angry  nature to do so." 
"There is also a large amount of selfishness and callous disregard for others inherent to the average extreme couponer.   Why buy 50 squeeze bottles of mustard — the entire store stock — when a family of four could not use that mustard before more than half of that quantity has a freshness expiration or becomes dangerous to eat?    Many psychiatrists, myself included, are starting to see extreme couponing as a form of anti-social behavior and perhaps a bridge to more serious mental illnesses  somewhere down the road."
TheDamienZone watched a few of these TLC shows and we came to the conclusion that while many of the couponers blame financial hardship, they all seem to have large homes and all the accouterments one would need to store four years worth of Cheerios and Vitamin A&D Ointment.  Of the three women we watched, each seemed a little off-kilter and we figure that if they weren't cutting coupons they'd probably have acquired some other kind of sub-clinical disregard for others – some other anti-social behaviour.
They are very intelligent about one thing only, and that's how to use coupons and store promotions to get huge quantities of food for virtually no charge.  The trouble is that about 90% of their purchases are useless.  The average couponer seemed to us to be either fat or sloppy or a combination of both.   The only thing that is neat about them is how beautifully they store their stuff.    Their basements and storerooms and garages look like miniature grocery stores where everything is perfectly aligned on shelves.  It's sick to watch actually.
Who needs 50 Xtra-large jars of 500 Maalox antacid chewable tablets?    A hospital full of ulcer patients would take a year to use all of that — and the shopper left none of the product on the shelf for a shopper who might really need that kind of product — an elderly person on a fixed income who might need just one bottle for their stomach ailment.  The extreme couponer doesn't seem to care about that possibly.   They just take and take and take, and then they revel in the fact that they bought 50 jars of Maalox tablets for 50 cents and saved $700.00.   It seemed really selfish and uncaring.
"Extreme couponers are often very callous and uncaring people," said Dr. Hartunis. 
"In my experience, I would estimate that nearly 90% do not care that the products they sweep off the shelves and into their basement stockpiles are often things that regular folks need to live.  They tend to be very house-proud and their interest in their children's lives is often lacking depth.  They may claim to love their children, but they cannot love them as much as they love coupons.  That is the nature or the sociopathology inherent to extreme couponing.
I treated a patient with stomach cancer who was seeing me for depression and her deepest resentment was not aimed at her illness but the extreme couponers who constantly emptied the shelves of the products she liked or needed. 
Most often, during the course of her treatment ( which ended in her death) she complained that she could never seem to buy a certain stomach acid product because the extreme couponers would come at 5am and wipe it off the shelves.  My patient was in desperate financial straits on top of being terminally ill but was forced to pay double the price by buying what she needed at convenience stores where the markup is extreme. 
In one instance my patient watched in shock as an extreme couponer pulled an entire shelf of that product into a cart and would not let my patient have just one even though she explained her health issues to the extreme couponer.  My patient was very upset and found it hard to understand the couponers, but later she seemed to have a very profound understanding of them.  Often, a person who has come to terms with death and dying sees unkind or malicious behavior in others a whole lot more clearly than would an ordinary healthy person.
"This is anti-social and possibly, dare I say,  psychotic behavior, and it was my stomach cancer patient who opened my eyes to the psychosis of extreme couponing."
Hartunis continued:
"The extreme couponer has issues that dig deeper than any financial need since financial need is almost never the cause for the couponing.  They may have been deprived of food as children or perhaps their mothers and fathers were extreme bargain hunters.  Basically, however, we do not see a genetic link other than a genetic predisposotion to mental illness — usually obsessive-compulsive and pre-bipolar states, and most of them should seek help while there is still a chance to work around these deeper issues."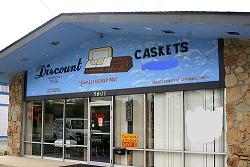 "Another doctor, a colleague, who has looked into this told about a case where a 40-year-old woman with a family of five, found caskets on sale for 85% off at a major casket manufacturer.  The caskets were scratched or damaged and were being sold as props for movies or plays.  This woman purchased five caskets and stores them in her garage — the car stays in the driveway.  Most cemeteries will not allow the use of damaged or defective caskets but this woman found loopholes in the laws of a neighboring state where a damaged casket can be used. " 
"The patient promptly signed an agreement to lease with this cemetery and then went through government channels to get a 75%  Federal rebate on these grave plots that was briefly granted during cemetery rennovations being done as part of that State's historic sites and landmarks.  All this — caskets and a cemetery 600 miles from home–   despite the fact that everyone in her family is healthy — at least physically.  This is psychotic behavior and I see no difference between trying to get a bargain on caskets you don't need and buying 200 jars of ketchup that will rot before they can be used.  There's a curious irony about that."
TheDamienZone agrees with Dr. Hartunis and from what we observed, the extreme couponer seems to be more of a selfish, uncaring hoarder than a thrifty or savvy shopper.  They are crazy people — a term that Dr. Hartunis steered clear of using but we knew he wanted to.  He is attempting to to get funding to do further study on this complex problem and perhaps develop treatment plans that will allow Extreme Couponing to be viewed as an entirely new mental abnormality.