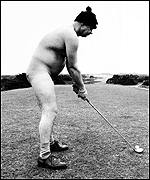 Through 16 holes in the final round of the 2011 Masters on Sunday, Adam Scott looked to be in position to become the first Australian to don the green jacket at Augusta.
After a birdie on the 16th, Scott was one stroke ahead of Charl Schwartzel for the lead.
But the difference between winning the Masters and losing for Scott were those last two holes.
He didn't exactly do poorly, parring both holes and ending the day 5-under par.
But while he maintained, Schwartzel and fellow Aussie Jason Day gained ground.
Day finished the round with two straight birdies.
Schwartzel ended the day in magnificent fashion, scoring birdies on the last four holes to capture the Masters at 14-under par.
Close, but no cigar for Scott in his bid to make Australian history at one of sport's most glorified golf courses.
But while disappointing, Scott, ranked 17th in the world, can take solace in the fact that he gave the field a run for its money and played a rousing game at the 2011 Masters.
While he wasn't able to make history, his performance, as well as Day's, should make Australia proud in one of the most contentious Masters ever.
Even Geoff Ogilvy, who tied for fourth with Tiger Woods and Luke Donald, gave the Aussies something to be proud of.
Scott didn't get to sit alongside Phil Mickelson in the presentation of the green jacket, but he should be smiling as wide as Charl Schwartzel did.
Oh wait — you were talking about the Master's Tournament — I thought you were talking about his S and M Masters house.