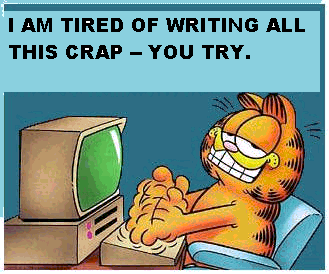 I am getting really tired of having to come up with all these stories and photo-shopped photos  every day.  It's a lot of work and my fingers hurt.  I have decided to open up the TheDamienZone to outside writers and see how that works. 
If you think you're funny or trendy or edgy or in touch,  and you would like to write for an internationally famous and semi-satirical blog, why don't you submit some stuff and I'll put it up on  TheDamienZone.com.  If you think you can, in one 400 word story,  combine real news with comedy you might have what it takes.  The pay is ZERO but it's like graffiti and only an idiot would pay for graffiti.   My pay is zero and so is yours.  This is not a solicitation for a job.  It's a chance for you to get your stuff read by my readers and I have a lot of them … thousands per day.
Don't worry about the photos.  I'll make the photos to fit your story.  Can you write something like this http://thedamienzone.com/2011/04/04/southwest-airlines-planes-are-cracking-up/    note the combination of reality and absurdity.
Or can you do something like this — http://thedamienzone.com/2011/03/30/ralph-macchio-marv-albert-says-he-is-the-father-hairpiece-proves-it/
Not everything has to be funny either.  If you have a story or essay about Animal Rights or Animal Abuse or UFOs or whatever,  TheDamienZone would like to see it.  We sometimes go in those directions when the mood hits.
You can use your own name or you can use a handle like "The Crusher From Cleveland" — but remember;  be funny when the story is trying to be funny and it doesn't hurt to be off the frigging wall too without being just a potty mouth.   Snooki and anything about Jersey Shore is good.   Anything about Dancing With The Stars and American Idol does well too.   I suggest you look at TheDamienZone and read a lot of the past stories and try to get a feel of what goes on here. If I think it's funny or interesting or cool I will put it up with an intro about you if you provide one — (less than 50 words) — okay so that's that.
Mail your funniest stuff or whatever to ddm@thedamienzone.com    Title the email " MY STORY " and don't forget to tell me what you want to be called or how you want your name to appear and also to include a 40 word or less bio about you.  If you wish to remain anonymous just say so.  You may include a title in the story but if I don't like it, it gets ditched.  I also do not like attached documents.  Put the story in the letter and if it doesn't paragraph well in transcription, I will fix it.
I will tell you how your story is doing as far as visits go, but don't bother me about it because I am doing you the favor.  The other option you have is to start your own funny blog and work for a year writing a trillion funny stories a day and doctoring a hundred photos a day to get 22 people in the world to read one of them.  Sometimes 20,000 read it and sometimes 2 people read it — the piece has to be trendy and up to the minute otherwise nobody reads it.  You may submit a title but odds are that I will give it a title because I already know what titles get the attention of search engines.
Good luck
Damien