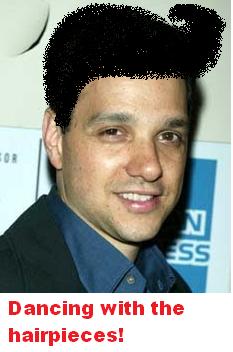 Karate Kid, Ralph Macchio should have been on "Dancing With The Wigs" or "Dancing With The Hair Transplants" or Dancing With The Toupees."   He may have danced divinely, but his new moppy hair is sooooooooooooooooo fake!   Ralph had a receding, but not so bad hairline, last year — and now he just looks like Elvis in the morning after a night with Connie Stevens.  
I'm not sure if it's a frontal hairpiece, a full hairpiece or a transplant.  It looks awful thick to be a transplant but the fact that it was ill-coiffed makes me think that it's a transplant because once that new hair grows in, the guys are afraid to cut it or mess with it too much and that would explain the crappy look — but then again, he might have a wig that was not cut properly. 
Cut your hair short, Ralph!   Whatever it is — a wig, a toupee, a transplant or whatever — it won't look so weird.  It looks as weird as Joey Lawrence's spray-on shaved head.
UPDATE UPDATE UPDATE — NEW PIC OF RALPH WITH WIG http://thedamienzone.com/2011/03/22/ralph-macchio-hairpiece-wig-rug-photo-update/