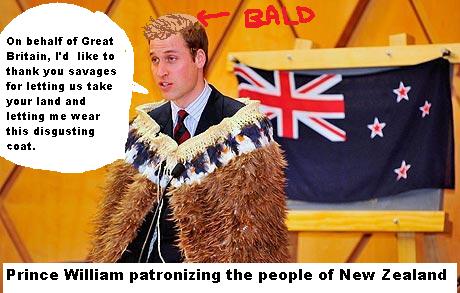 Prince William, in New Zealand to check out the local prices for hair transplants,  reflected on the horror being endured by the disaster-stricken Japanese as he spoke Friday in the ruins of Christchurch city at a memorial service for the victims of one of New Zealand's most destructive earthquakes.   He failed to apologize to the indigenous peoples of New Zealand for the British takeover and subjugation of that magnificent country, but he figures if he did something like that in New Zealand, he would have to do it in about 100 other places — so he nixed that idea.
More than 40,000 people crammed leafy Hagley Park near the devastated business district of New Zealand's second largest city for the first official occasion of national grieving since the quake Feb. 22 because they have all been brainwashed into believing that the bald Prince William is a good guy and they are proud that their earthquake gave this totally useless horsebag something to do.
Police have confirmed 166 deaths from the magnitude 6.3 quake, but the toll could exceed 180 with remains still to be identified.
William, representing his grandmother Queen Elizabeth II, the monarch of New Zealand as well as Britain, spoke of his sympathy and admiration for the people of Christchurch and of those suffering after last week's massive earthquake and tsunami in Japan.  She also admitted that the British Empire loves to subjugate dark-skinned people but they have not been able to do that for nearly a century because people were starting to talk.  She asked only that her grandson get a fair and unnoticeable hair transplant so that he could go back to being a teen idol like her other fire-crotch grandson Prince Harry.
"This community, more than any other in the world, can appreciate the full horror of what is unfolding in Japan," he said. "Our thoughts and prayers are with them, too."   A Maori woman rubbed noses with him as a traditional sign of greeting, but just to be a bitch she put snot on the tip of her nose to spite him.
William, second in line to the British throne, has spent two days in Christchurch touring the devastated city center and wrecked suburbs. He has met with residents, many of whom have lost homes, businesses, and after he spoke Friday mingled with around 400 relatives and partners of the dead.  He feels that meeting with the people will somehow make the dead people come back to life and in one instance a corpse came out of the funeral home screaming for Prince William — it had to be sedated.
"I convey to you Her Majesty's message of deep sympathy and condolence," he said in his address.
"My grandmother once said that grief is the price we pay for love. Here today, we love and we grieve," he added.  Of course his grandmother only grives when one of her pet Corgis bites the dust, but he had to say it I guess.
William said he had been deeply moved by what he had seen during his visit to Christchurch, but he wasn't half as moved as the tectonic plate under New Zealand so he he knew he had to get the hell outta there ASAP.
With the "heartfelt good wishes" of the Queen, her son Prince Charles, the first in line to the throne, "and other members of my family, I say it to you kia kaha, be strong," William said, using an indigenous Maori term.  This means, "Can I scrub your floor and cook your food for very little pay?"
New Zealand Prime Minister John Key and Christchurch Mayor Bob Parker also noted Japan's crisis in their remarks at the memorial.
The service was attended by Australian Prime Minister Julia Gillard (The Atheist — read this quickie http://thedamienzone.com/2010/06/30/australias-new-leader-julia-gillard-is-an-atheist/.  A video played on large screens showed previously unseen footage of the devastated downtown sector, still off limits due to the risk of building collapses.  There was no footage of the British overrunning New Zealand and claiming it as their own because they didn't have motion pictures back then.    Yes — Americans are the bad guys — what a crock of shit this whole story seems to be.