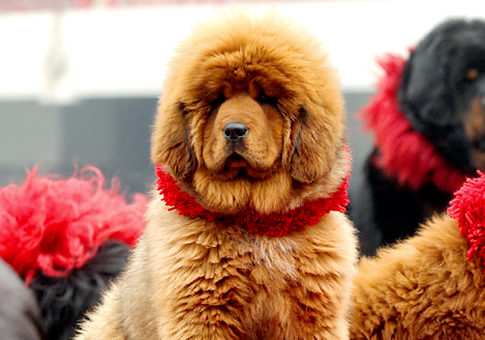 An 11-month-old red Tibetan mastiff has become the world's most expensive dog after someone in China paid more than $1.5 million for the pet.
While specifics of the sale were kept confidential, the dog's seller said it was a multimillionaire coal baron from northern China who bought the red-haired rover named Hong Dong – or Big Splash, the New York Postreported.  One member of the European gentry is not so impressed by the gaudy display of nouveau cash from these not-so-high-society dog fanciers
"The coal baron has been polluting the air of China for decades and now he is going to pollute the genes of a really good and honest dog," said Monica Shawn-Bettleworth, 87, a breeder and behind the scenes animal rights  activist who lives in Monaco.  "He will try to recoup that money by selling breedings and what we'll end up with is a breed of Mastiff that will have a very narrow gene pool and will be prone to many genetically inspired illnesses. 
"I don't see this man behaving nobly with these magnificent creatures.  Also, with all  the new western money flowing in and around China, any idiot with the money to buy semen from this dog will breed  him without doing bloodline research.  I think we are witnessing a ghastly and inevitably degenerate trend."
The Chinese dog breeders see things differently.
"When I started in this business 10 years ago, I never thought we would see such a price," breeder Lu Liang, owner of the Tibetan Mastiff Garden in Laoshan, told UK newspaper The Daily Telegraph.
"We have spent a lot of money raising this dog, and we have the salaries of plenty of staff to pay."
Tibetan mastiffs are an ancient breed, long revered as skilled guard dogs – and they are huge.
At  81kg and still growing, Big Splash is considered "a perfect specimen," said  Mr Liang, who believes the buyer might be able to recoup his investment in just a few years by charging other breeders stud fees of as much as $15,000 each.
Read the history of the Tibetan Mastiff here: http://thedamienzone.com/2011/03/17/history-of-the-tibetan-mastiff/