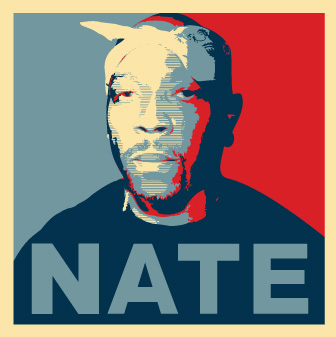 Rap artist Nate Dogg, known for his collaborations with such hip-hop stars as Dr. Dre, Warren G and longtime friend Snoop Dog, has died at age 41.
The cause of death was not immediately known, but Nate Dogg, born Nathaniel D. Hale, had suffered from recurrent health problems, including strokes in 2007 and 2008, The Hollywood Reporter said.
News of his death on Tuesday was first reported in the Long Beach Press-Telegram, his hometown newspaper, and Snoop Dogg send out a Twitter message on his friend's passing a short time later.
"We lost a true legend n hip hop n rnb. One of my best friends n a brother to me since 1986 … I am so sad but so happy I got to grow up wit u and I will c u again n heaven cuz u know d slogan all doggs go to heaven," he tweeted.
Other entertainers posting tweets included comedian Dave Chappelle and singer Erykah Badu.
A contemporary of Snoop and the late Tupac Shakur (aka 2Pac), Nate Dogg made his recording debut with the single "Deeez Nuuuts" on Dr. Dre's landmark 1992 album "The Chronic," and appeared on 2Pac's seminal double-disc set "All Eyes on Me."
Two studies by University of Maryland neurologists-one completed and one just beginning-address the higher risk of stroke that young African-Americans face.
Black men under 45 are three to five times more likely to have a stroke than white men in the same age group, a University of Maryland neurology research team reported Feb. 6. The risk of stroke in black women under 45 is four times higher than in white women of comparable age, according to Steven J. Kittner, MD, associate professor of neurology at the University of Maryland School of Medicine.
Although death rates during hospitalization for stroke were similar in black and white patients, more African-Americans died because stroke occurs more commonly in that racial group, particularly at younger ages, Kittner said.
"More black people die or are disabled by strokes during their most productive years," he noted. "Now we need to focus on prevention," he said.
Kittner is heading a University of Maryland stroke prevention study, part of a five-year study sponsored by the National Institute of Neurological Disorders and Stroke of the National Institutes of Health.