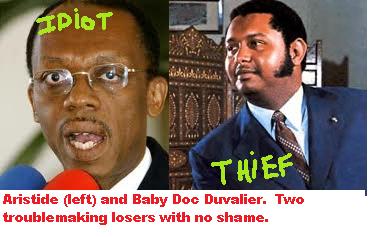 Haiti does not need an earthquake to destroy it — it has politicians from its past who have done a better job than any tremor.(Damien.  TheDamienZone.com)
He had to flee in a US helicopter after a Haitian rebellion back in 2004, but he says he was kidnapped.  He lives in exile in South Africa where he pretty much does nothing but play ping-pong — suddenly he wants to go back to Haiti where he can influence and corrupt the upcoming Presidential elections in Haiti. 
On Monday, U.S. State Department spokesman Mark Toner acknowledged Aristide's right to go back to Haiti, but said returning this week "can only be seen as a conscious choice to impact Haiti's elections."
Haiti's electoral council barred Aristide's party, Lavalas, from the presidential election for technical reasons that supporters said were bogus. Its members are boycotting Sunday's runoff. The initial Nov. 28 vote was so troubled by fraud, disorganization, instances of violence and voter intimidation that 12 of the 19 candidates including the front-runners initially called for it to be tossed out.
American actor/activist Danny Glover, the chair of TransAfrica social justice forum, asked why former dictator Jean-Claude (Baby Doc) Duvalier could return to Haiti unhindered and not Aristide.
You have to go pretty far to be dopier than Danny Glover, but this time Glover is right — only he is on the side of wrong — no surprise there.
"People of good conscience cannot be idle while a former dictator is able to return unhindered while a democratic leader who peacefully handed over power to another elected president is restricted from returning to his country by external forces," Glover said when he should be saying nothing because he isn't Haitian.
President Obama seems to be trying to hold up Aristides airplane but another guy — even dopier than Danny Glover had to put a monkey wrench in the machine.
"The United States trying to control when any Haitian citizen — especially a former President — can enter Haiti is outrageous," Bill Quigley, legal Director of the Center for Constitutional Rights at Loyola New Orleans Law School said. He is among more than more than 100 lawyers from the United States, Europe and Canada who wrote a letter of criticism to the U.S. State Department.  <—-Is this guy Quigley mentally retarded?  I say he is.
Like I said, you didn't need an earthquake to destroy Haiti — these two are coming for CASH!   They are shameless.