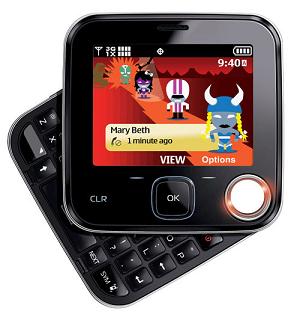 It look s cool and it has a cool design, but the NOKIA TWIST Offered by VERIZON WIRELESS is the worst phone in the world. 
1) The battery falls out if you put the phone in your pocket.  The back of the phone is the battery and after a few months it gets loose and falls off or loosens up enough for your phone to shut off without you knowing. 
2) You get terrible reception even in areas where you previously got great reception with a different Verizon phone.
3)  If you call customer service you get shabby treatment as soon as they find out that it's a NOKIA TWIST because they are sick of getting calls about it and the customer service reps hate fielding calls about THE NOKIA TWIST.
4) The camera takes AWFUL grainy pics and the video almost never works.  The odds are that 9 out of 10 pictures will come out crappy and you will miss a lot of good shots for Facebook or just for any reason.
5) Sometimes the battery lasts for days and sometimes it will just last for a few hours — you never know.
THIS PHONE WAS OFFERED FOR FREE WITH A 2 YEAR RENEWAL AND NOW WE KNOW WHY.  IT IS A PIECE OF JUNK AND YOU ARE STUCK WITH IT FOR 2 YEARS — SO JUST LAY BACK AND CRY.  VERIZON HAS MADE YOU A SUCKER.