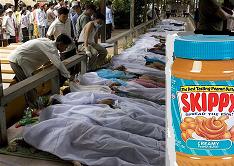 They say that "choosy mothers choose Jif" and it could never be more true than right now.   Seems that Skippy peanut butter should now be called "Scrimpy" peanut butter because they should have been on top of this.
Skippy Peanut butter is being recalled in a big way because it may be contaminated with salmonella bacteria because a workman who was responsible for monitoring the bacterial content of the peanut butter while it was processing, was asleep on the job — and get this — the guy's name was Sal Monella.  What are the odds of that?
This contaminated sticks to the roof of your mouth and later sticks to the roof of your casket. 
"You can't mess with peanut butter that's infected with bacteria," said special investigator Benjamin Switchy who works for Peanut Butter World Products on nights when he is not investigating something for TheDamienZone.com. 
"Peanut butter with salmonella is bad because kids eat peanut butter and a lot of kids have immune systems that are not as powerful as the ones you find in adults.   I don't have any kids although my life partner and fellow investigator Sheldon Hartunis and I are hoping to adopt a few children from Nicaragua or Appalachia."
The following states are affected:   (THIS IS REAL)
The product was distributed in Arkansas, Connecticut,  Delaware, Illinois, Iowa,  Maine, Minnesota,  Missouri, Nebraska, New Hampshire, New Jersey, New York, North Dakota, Pennsylvania, Virginia and Wisconsin.
The affected products are packaged in a 16.3 oz plastic jar and have UPCs 048001006812 and 048001006782, which can be found on the side of the jar's label, below the bar code. 
It's not worth taking a chance with any Skippy peanut butter — even if the code numbers don't match up.   Your children should just eat another brand for a long time until Skippy ( we now call them Skimpy) has fixed this problem. 
The illustration on this page is an artist's conception of what could happen if salmonella bacteria affected a lot of weak people.  In reality nobody was killed yet — but Skippy sucks anyway.  You should be using Jif or Organic Peanut peanut butter — it tastes better.