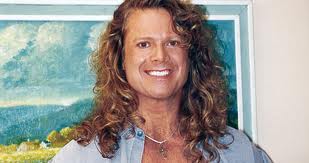 Remember Tony Little, the muscle workout guy with the baseball cap and the bushy fake ponytail?  Well, now that all the workout junk he hawked for years on infomercials is out by the curb on bulk pick-up days, Tony is back in the news talking about the struggle his family had when his kids were born three months premature.  Thankfully the kids are alright (just like Charlie Sheen's kids) but Tony is not alright. 
"Tony has had so much plastic surgery that now, with his hat and ponytail, he looks like a transexual lady golfer," said a source close to the fitness guru has-been.
"He has that feminine face that you get when you really look like shit but you get a lot of bad plastic surgery to try to look young like that Dr. Feder who hawks thet Stem Cell Therapy skin cream.  Dr. Feder looks even worse than Tony Little and he's a bigger scum bag because at least Tony is an athlete who sells athletic stuff.  Feder is a physician who sells fake wrinkle creams and sells out his Hippocratic oath for a few bucks."
Tony Little had to get back in the limelight and we hope he isn't using his sick kids and his wife's postpartum depression to get back into that limelight.