According to people who know all about these weird things,  The Situation is getting a little snip — we're not sure.
A bartender at Club Paradise in Asbury Park,  NJ, USA,  believes that just to please his other "Jersey Shore" cast mates, Mike The Situation Sorrentino has decided to get circumcised even though that might mean making his already rumored to be tiny penis, even tinier.
"Pauly D doesn't  like uncut guys," said the wispy bartender who refused to be identified.  "Mike lives in the house and walks around naked and the guys don't like to see his uncut penis.  It's small so it looks like one of those little turtles you can buy in the pet shop.  Honey, I would tell you the whole story but tonight is dollar well-drink night and I'm working my ass off."
The Situation is famous for his abs, but what he's not famous for is having a large penis.  As a matter of fact, he once tried to make a pact with a voodoo priestess that he would give up his eight-pack of abs if she would grant him an extra inch on his penis.
"Dat crazy mon be tellin me to give him more on dat dare  pee-pee, mon" said Julienne Paree of New Orleans, Louisiana USA. 
"I tell him dat he be crazy to only want one itty bitty inch ya ya.  What be da difference you know  if he have three inch or two inch?  Dat will still be a very small pee-pee — he ha ya — and what will I be doin with his abs, mon?  I no need dat shit no how."
According to sources at The Surf Club, The Situation has an appointment with Seaside Heights surgeon and penis expert, Dr. Velma Kruthers.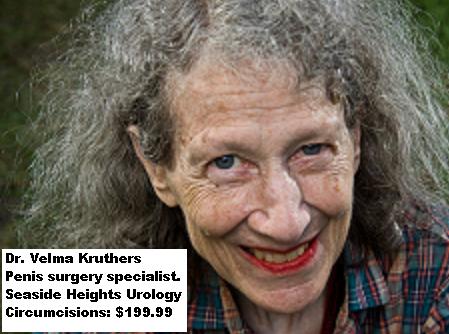 "I do a lot of summertime circumcisions," said Dr. Kruthers from her office in Seaside Heights, NJ USA. 
"College kids are now coming here from the hinterlands and a lot of them are not cut — they feel out of place so I do a quick snip and then in a few weeks they can party like the Guiodos who are almost always cut.  The Situation is an odd exception if he comes here for that kind of surgery. 
"I know there is patient doctor confidentiality but if Mr. Sorrentino  is uncut, that's how his parents wanted him to stay  because at birth his penis was perhaps very  small — I don't know.  What I do know, however, is that when a penis is absurdly small at birth, some parents are told by doctors that the kid might need sexual re-assignment surgery and the foreskin is what we use to fashion female genitalia — even in Guidos."
So who do we believe here?  A doctor who is supposed to be doing the surgery but says she knows nothing about it – a Voodoo priestess who claims Mike offered her his abs in exchange for an inch — an overworked bartender at Club Paradise in Asbiry Park — I mean — what's the deal?