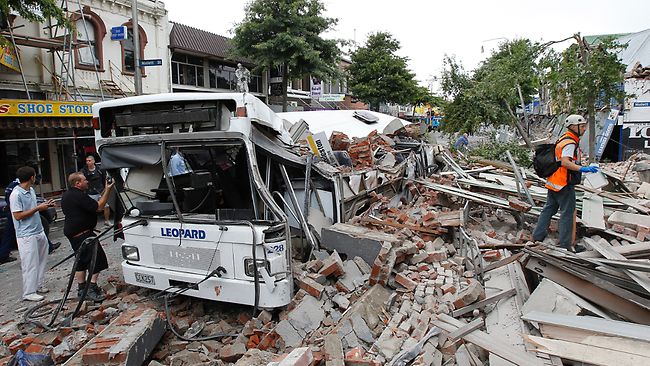 Office workers trapped under their collapsed buildings sent messages to the outside as rescuers with dogs scrambled to save them and dozens of others following a powerful earthquake that killed at least 65 in one of New Zealand's largest cities.
At least 100 people were reportedly missing and believed buried. Search teams assisted by floodlights and earth movers worked through dawn Wednesday, trying to dig through crumbled concrete, twisted metal and huge mounds of brick.
Medical workers brought the injured to a triage center set up in a park in central Christchurch, while military units patrolled near-empty streets disfigured by the huge cracks and canyons created in Tuesday's 6.3-magnitude quake, the second powerful temblor to hit Christchurch in five months.
The quake toppled the spire of the city's historic stone cathedral, flattened tall buildings and sent chunks of concrete and bricks hurtling onto cars, buses and pedestrians below.
Web designer Nathaniel Boehm was outside on his lunch break when the quake struck just before 1 p.m. He saw the eaves of buildings cascade onto the street, burying people below.
Others tried to claw their way in, but he didn't see anyone come out.
"People were covered in rubble, covered in several tons of concrete," he said. "It was horrific."
It even shook off a massive chunk of ice from New Zealand's biggest glacier some some 120 miles (190 kilometers) east of Christchurch.