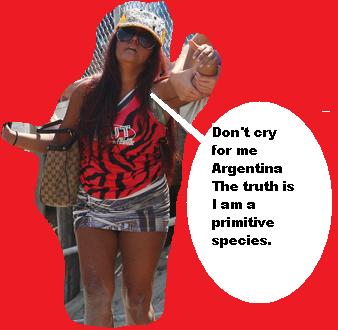 "Jersey Shore" star, Snooki, will appear in the 2012 edition of Sports Illustrated Swimsuit Issue according to sources close to the diminutive poof head guidette and her life story will play itself out on the London stage.
"Snooki will do the swimsuit edition next year," said David Furnish, husband of Elton John and father of the couple's new baby Zachary.
"We also have plans to make a London Stage musical about Snooki that Elton will write with Andrew LLoyd Weber and the tentative title is "The Poof."  
"We are currently looking for an actress to portray Snooki on the stage.  We are planning for the show to open on the same day that the Sports Illustrated Swimsuit Calender hits the newsstand."
2012 will be Snooki's breakout year.  She will not only open in a movie with Tom Cruise, she will be immortalized by Elton John and Andrew Lloyd Weber in a stage extravaganza.  They have even brought weights and sunlamps to England so that some of the local actors can build up some muscle and darken their pasty white complexions.