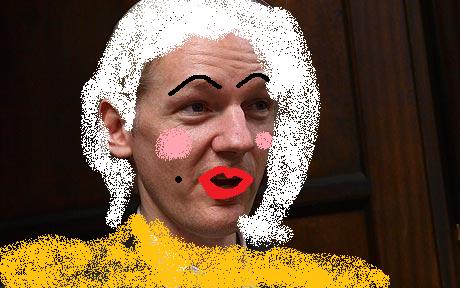 Julian Assange, the former Jean Harlow drag impersonator and Wikileaks jerk-off, is back in court for the second day of a hearing on whether he should be sent to Sweden to face sexual assault allegations.  His urologist was waiting to get results of a semen test taken from the duct tape that Assange uses to tape back his penis while doing his drag show.
His lawyer, Geoffrey Robertson, told the court Monday that Assange would not get a fair trial because of his notoriety and because Swedish rape cases are customarily held without the public present, to protect the alleged victims.  Also, it's hard to believe that anyone dressed as Jean Harlow could actually raoe a woman.  Harlow liked guys — big, hunky, burly guys, but ironically she wound up marrying one who looked like assange. He killed himself on night of their wedding because something was wrong with either his penis or his ability to perform.  His suicide note said something to the effect that >last night was merely a comedy>  or something like that.
But the lawyer representing Sweden, Clare Montgomery, countered that Swedish trials are based on the principle that everyone deserves a fair and public hearing even if they do look pasty and frightened and guilty.
The head of the secrets-spilling site has been accused of sexual misconduct by two women he met during a visit to Stockholm last year. He denies wrongdoing.
The hearing is set to end Tuesday.