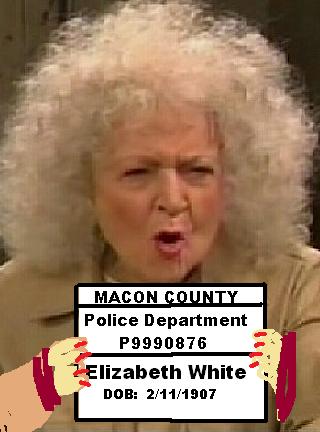 Betty White is an American icon, and if you didn't know that already, the people in Hollywood are making sure you do.  As we put pen to paper or finger to keyboard or whatever the hell it is that we do, Betty White's face is being carved into Mount Rushmore and the US Mint is printing a three-dollar bill with Betty White's portrait on it. 
Many major cities, now free of racism and bigotry, are changing the names of streets.  On March
2, 2011, all streets called Martin Luther King Boulevard will change their names to Betty White Concourse.    And JFK airport in New York will now be called, Betty White International Airport.  Lou Gherig's disease will now be called Betty White's disease even though that doesn't seem to make any sense whatsoever. 
There is a movement in Hollywood to make Americans sick of Betty White.  She's a nice lady and she never bothered anyone — so why are they doing this to her?
One expert offered his opinions.
"The people in Hollywood are passive-aggressive murderers," said Dr. Franz Clommer of the Hollywood Institute of Cardiology and Stupidity in Hollywood, California.  "Betty White has been in their midst for almost a century and she has been a solid and reliable actress.  That's not good, so the powers in Hollywood are trying to push a new disease on the American public, SBWS or Sick Of Betty White Syndrome. 
In some people, especially middle-aged  single men who still go grocery shopping with their mothers, this disease can be fatal.
"Betty White never did anything on the wrong side of the law and the closest she has come to a political statement has been her devotion to homeless animals throughout the USA and the world.  This kind of good behavior sets up a kind of  anti-mother hatred much like the mental aberration  portrayed in the character Norman Bates (Psycho).
Once SBWS sets in, there is a very low rate of recovery.  There was a case in 1979 when Betty was just coming off The Mary Tyler Moore Show and Match Game PM where several ordinary people were overcome with SBWS — they all eventually passed away and left all their worldly goods to groups who advocated killing stray animals."
Dr. Clommer is convinced that all this Betty White exposure is being done to tire Betty White out — or to possible kill her.   It has been revealed to TheDamienZone.com that Betty has been forced to admit to years of alcohol and drug abuse and talk about it on Oprah.  She also must come out politically against Sarah Palin and she must go to Darfur and Haiti even though elderly people should never go to either place because all the inoculations and the possibility of foul food and water can kill them.
"Miss White is being slowly killed by the people in Hollywood who secretly hate her," continued Clommer. 
"They don't know if she is a liberal or a conservative and that drives them totally out of their minds.  She has never openly kissed another woman on the mouth and she has never had a mugshot appear on The Smoking Gun.  She has never made any anti-Palin wisecracks and her jokes about tits have always been just fluffy, off-hand references that may have been risque in the 1960s but today seem like plain old fun.
"In other words, Betty White has a touch of class and the people in her industry just can't deal with that.  They want her to do something bad — something tasteless —  and they're running out of time. 
Once they succed in killing her off, they'll have a fake memorial TV show and then start again with some other old timer.  It's actually very diabolic."